Vendor Guest Post: Jenifer Boyce Photography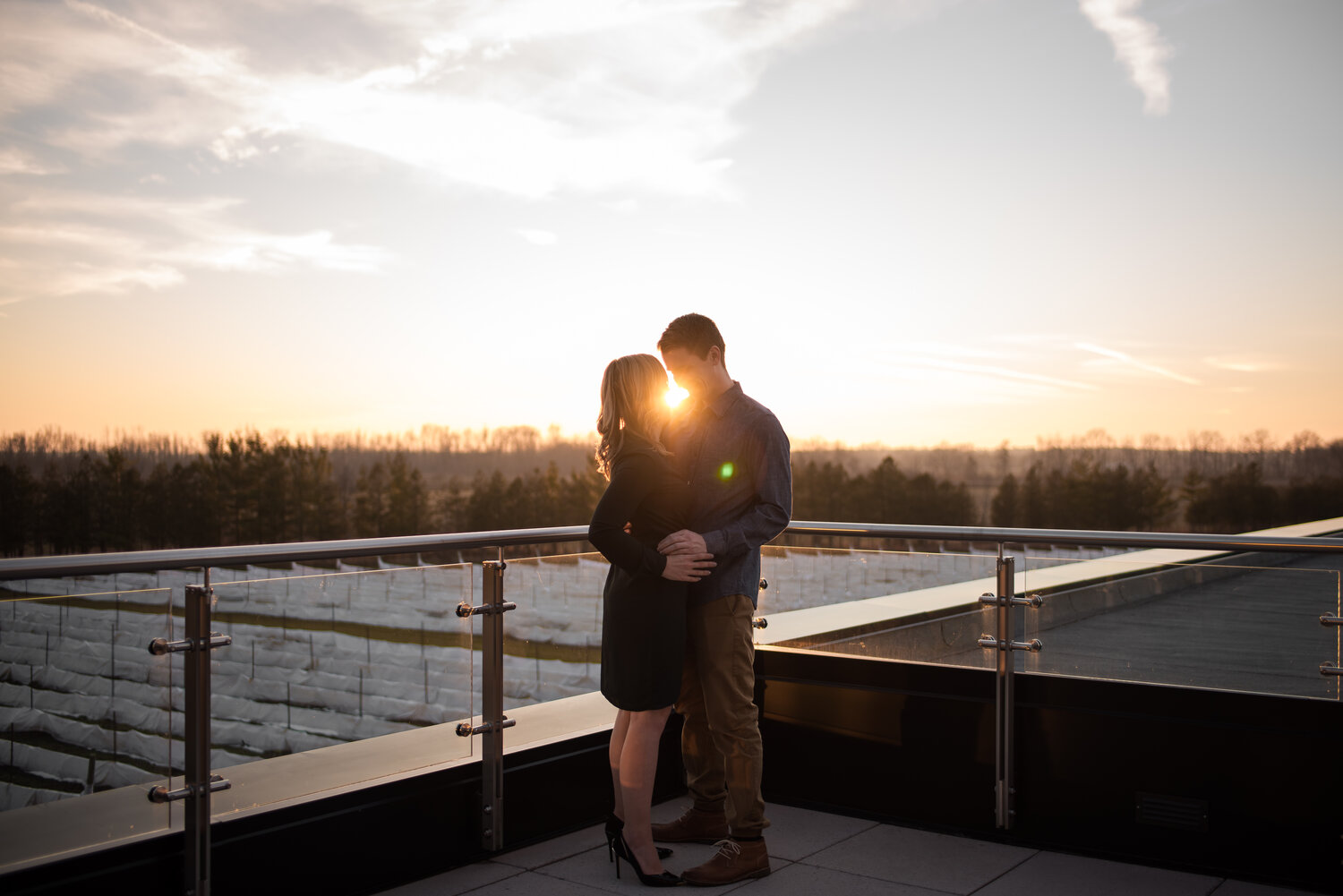 A lot of couples worry about their engagement photo shoot, and I get it; you usually only have one shot at this! You want the photos to be amazing. You want to do everything in your power to make sure everything goes perfectly. Well, I have good news for you… You shouldn't have to do a whole lot! If you have chosen a professional photographer you trust with a style you love, you have nothing to worry about. BUT, I understand that couples can still feel a bit anxious about their engagement sessions. Sometimes it is your first time having your photo taken professionally, at least as a couple, and you want to choose the right outfits, the right location, and maybe you want to bring some props. You want to make the most out of this once-in-a-lifetime opportunity that will result in memorable photographs. After all, you will be sharing them with your friends and family, maybe using for your save the dates or invitations, or to display on your wedding day as well as in your home for years to come. It is important, it's true! So even though you have nothing to worry about, I have compiled some tips to ease your stress and help you feel prepared for your engagement shoot.
What Time of Day Is Best for Your Photo Shoot?
Usually we photographers have a favourite time of day to shoot, The lighting matches our style, our vibe, and maybe even our schedules! But the time of day that you're taking photos really does affect the outcome. Sunrise is (in my opinion) the most romantic time to shoot. It's a bit darker than sunset but, at the same time, the colours are a tad more vibrant. There is this feeling when no one else is awake or out and about but you - it's mysterious and the photos always come out looking unbelievably stunning.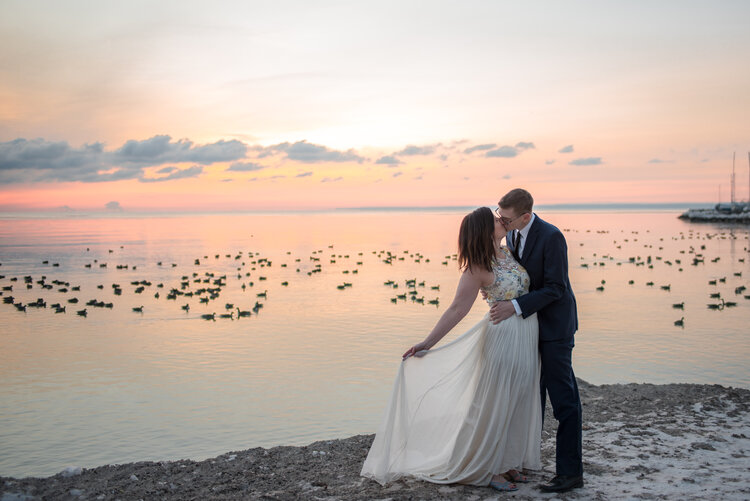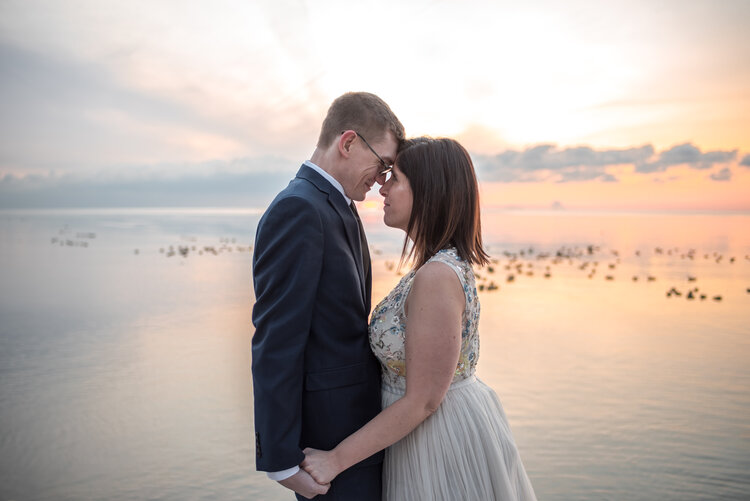 Mid-day is generally not an ideal time to shoot. When the sun is high in the sky it creates very bright sunspots and very dark shadows, especially under the eyes and nose. It's hard to escape! So, the next best time to shoot is late afternoon. If it's a cloudy day, the sun won't steal your spotlight. The photos will be evenly lit, and you will be the stars of your photographs!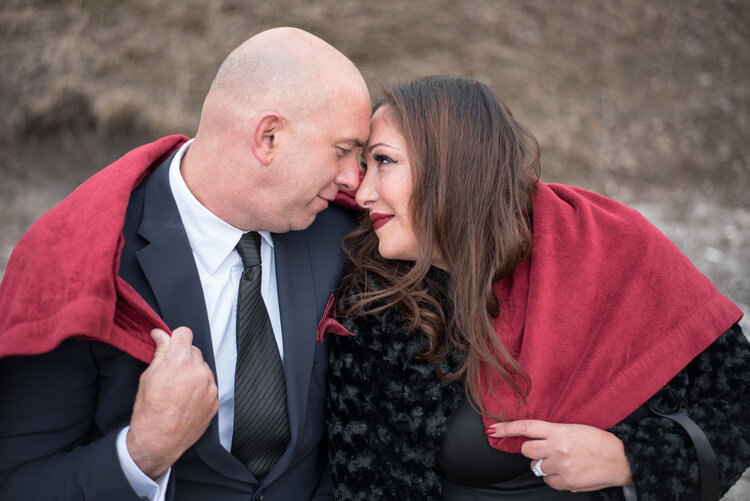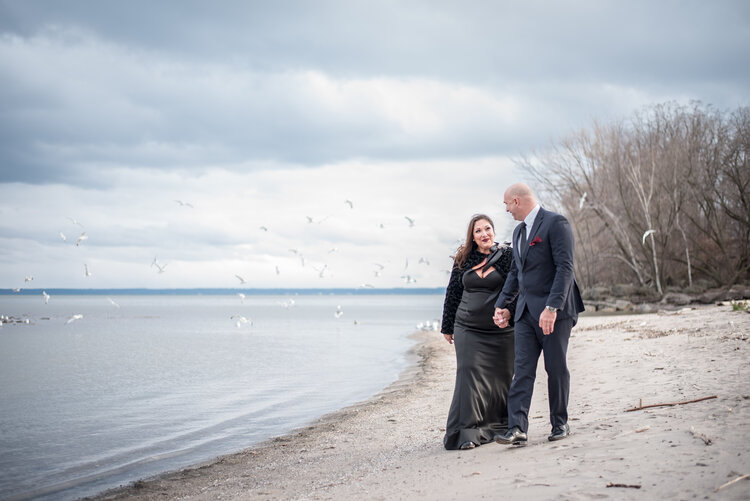 Next, of course, is golden hour, or sunset. This is another favourite time to shoot. There is something about the golden glow of the sun's rays that makes everything more romantic! It's also fun to play around with sun flare for us photographers, so we can get a little creative with this time of day!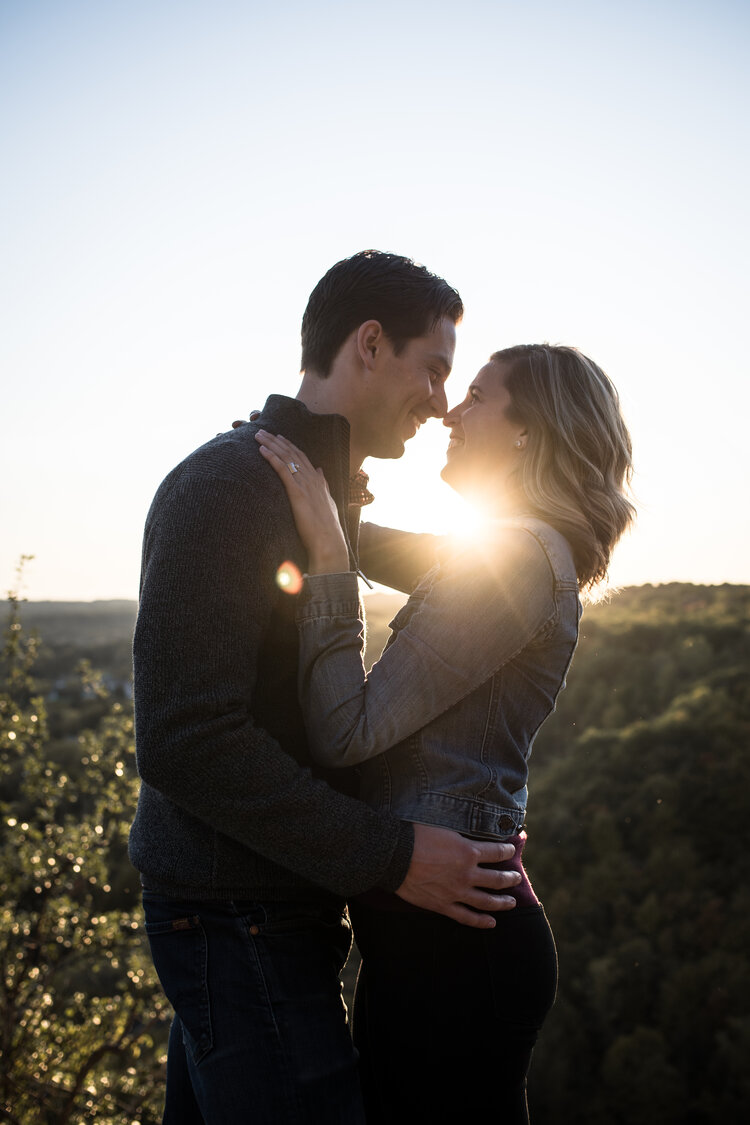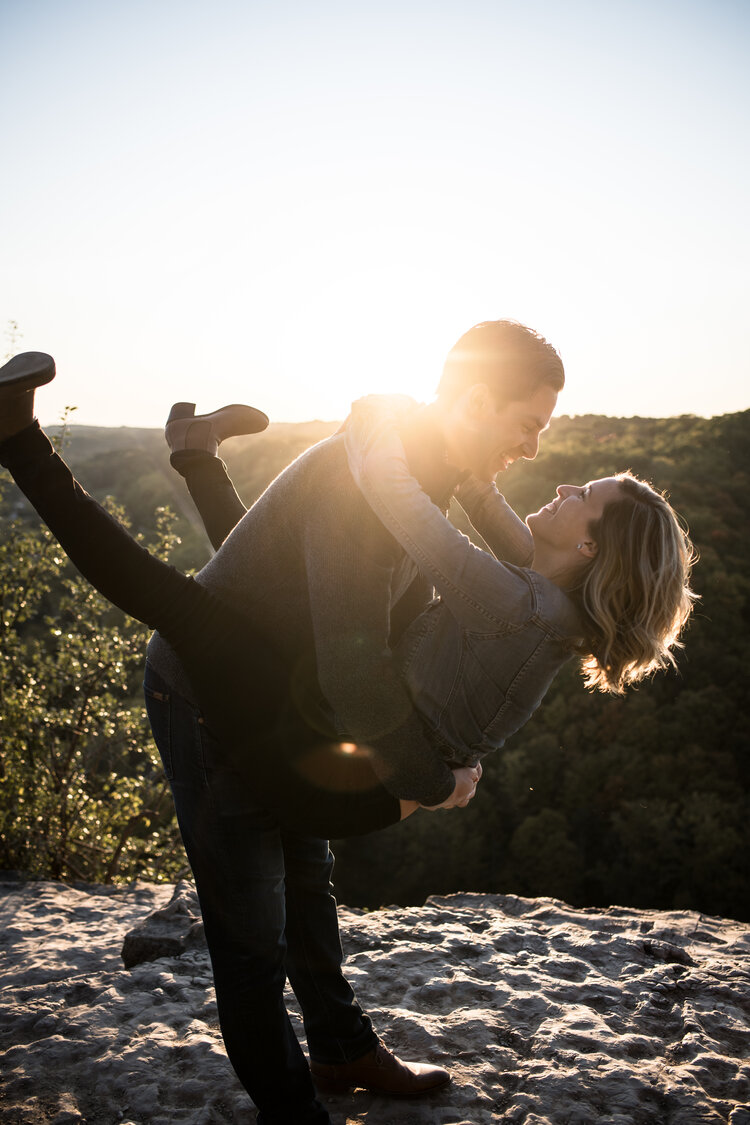 A fun and different option is dusk! After the sun's gone down, before it gets dark, there is an hour or so of sultry, low-lighting that creates this illusion that you are the only two people in the world… besides the photographer of course!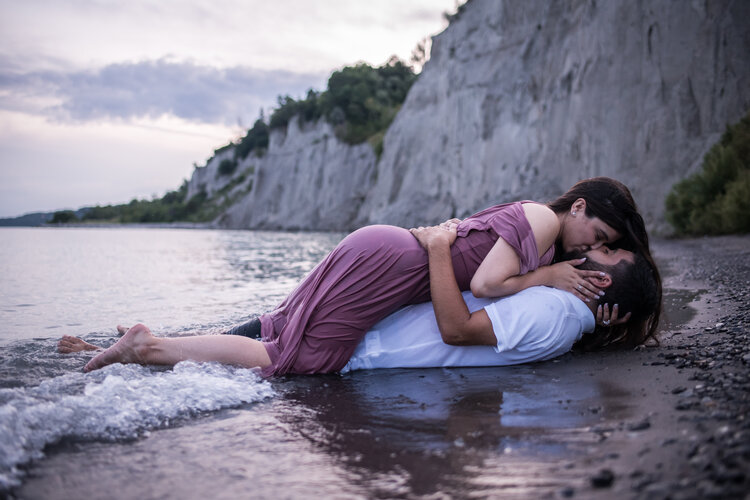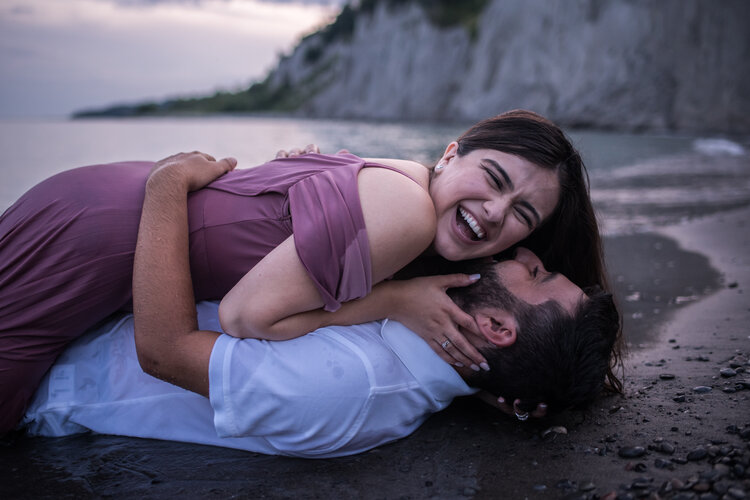 What if the Weather Doesn't Cooperate?
As long as it's safe, I always recommend following through with your engagement session no matter the weather! Some of the most beautiful shoots I've done have been in the rain, wind, or snow - even once in a flood! If your photographer is equipped to deal with it, I say DO IT! This next engagement session had unexpected snow: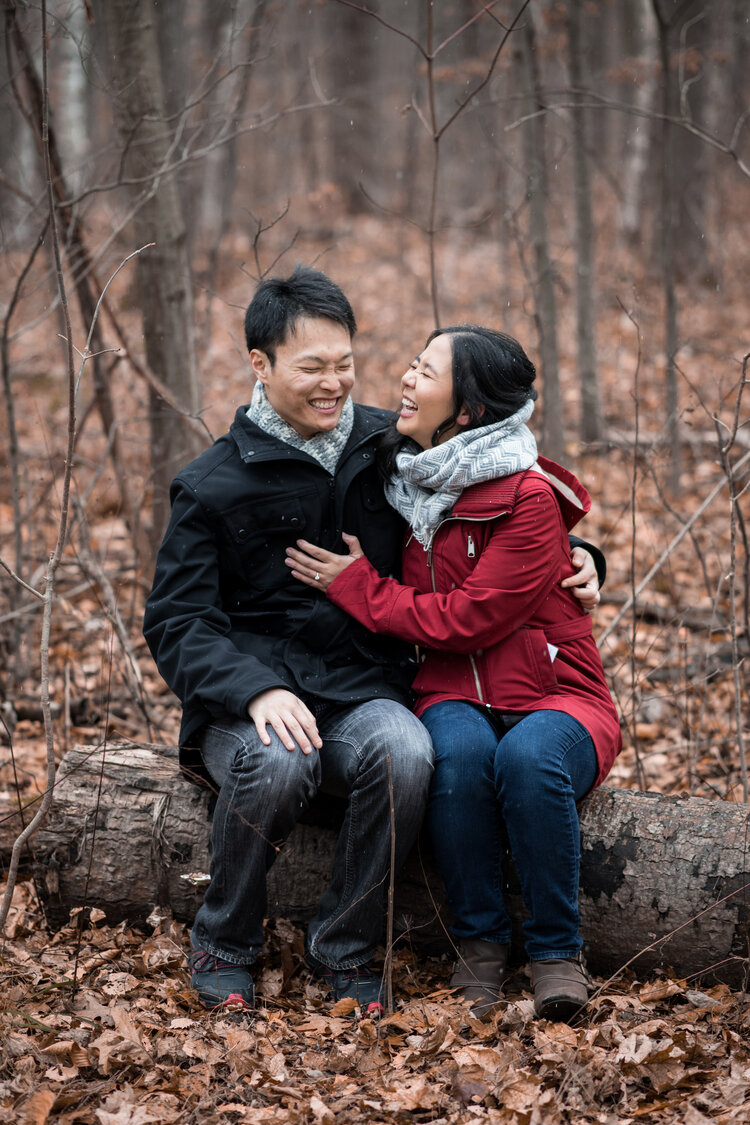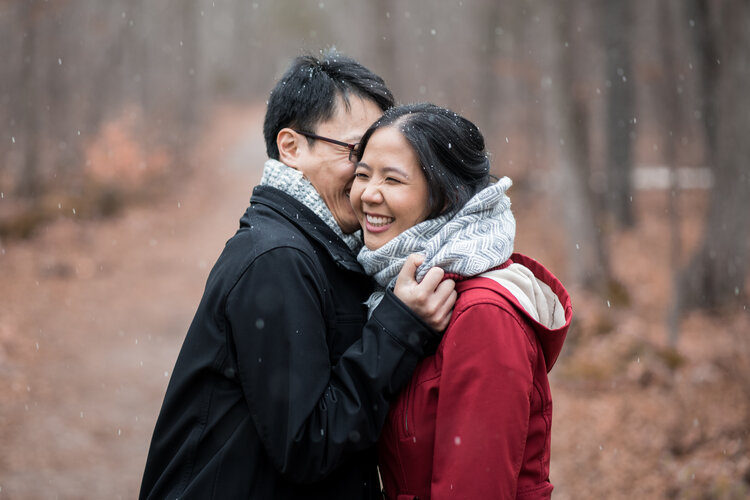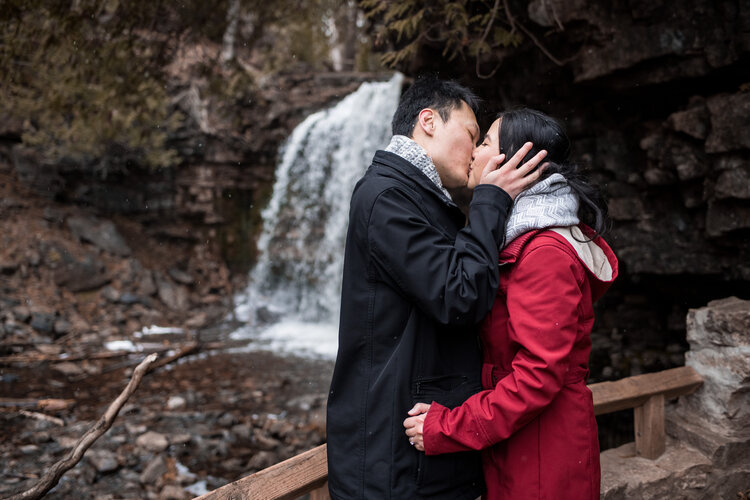 For this next session it poured rain… but look at that puddle shot!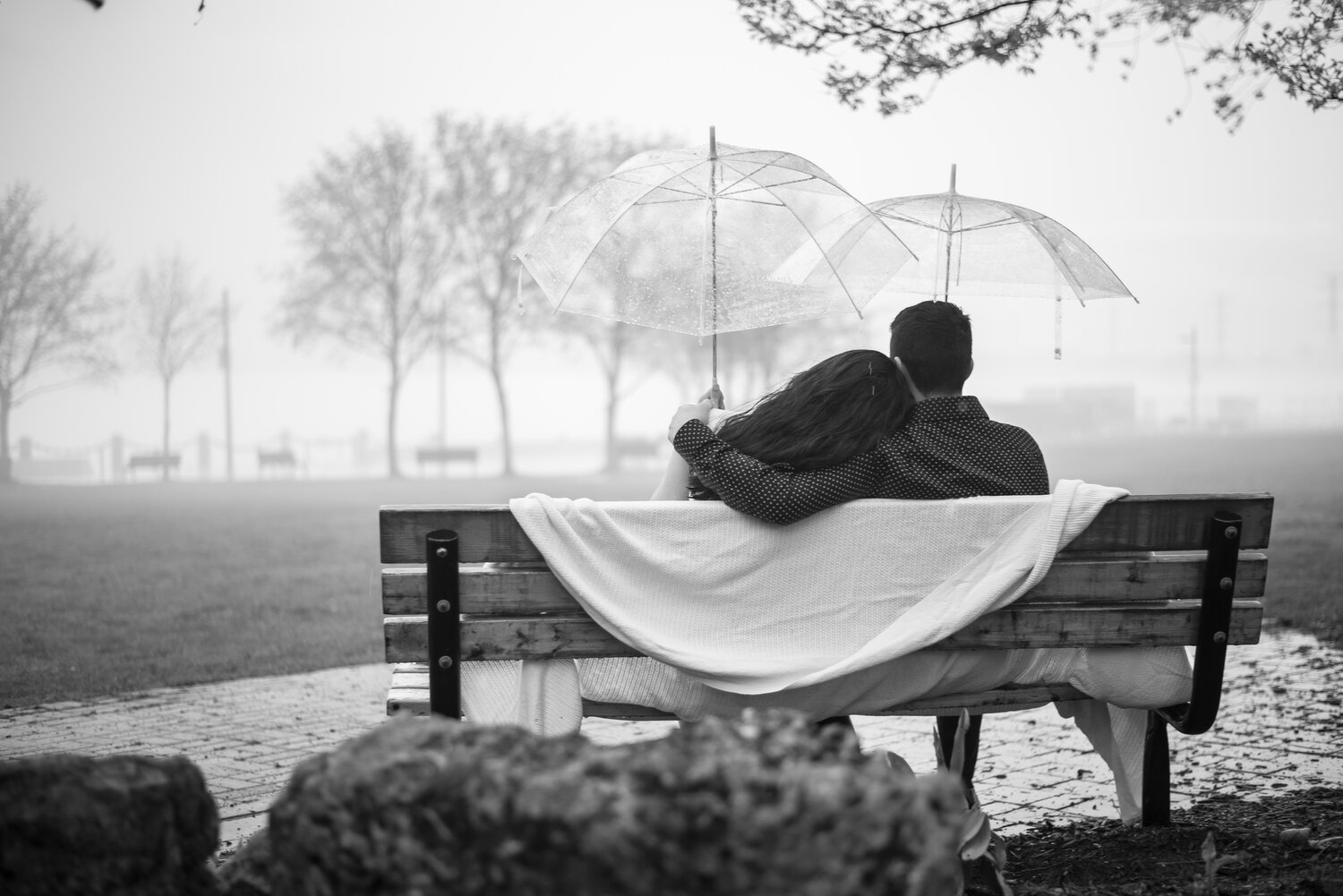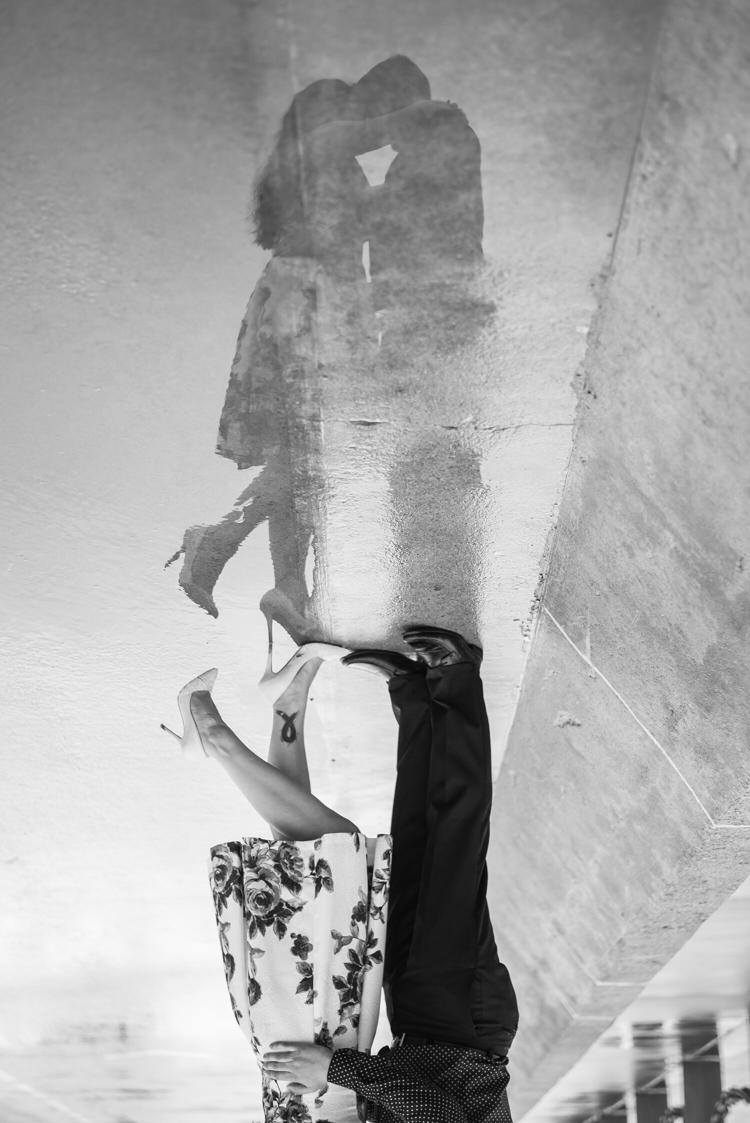 And here's that flood I mentioned!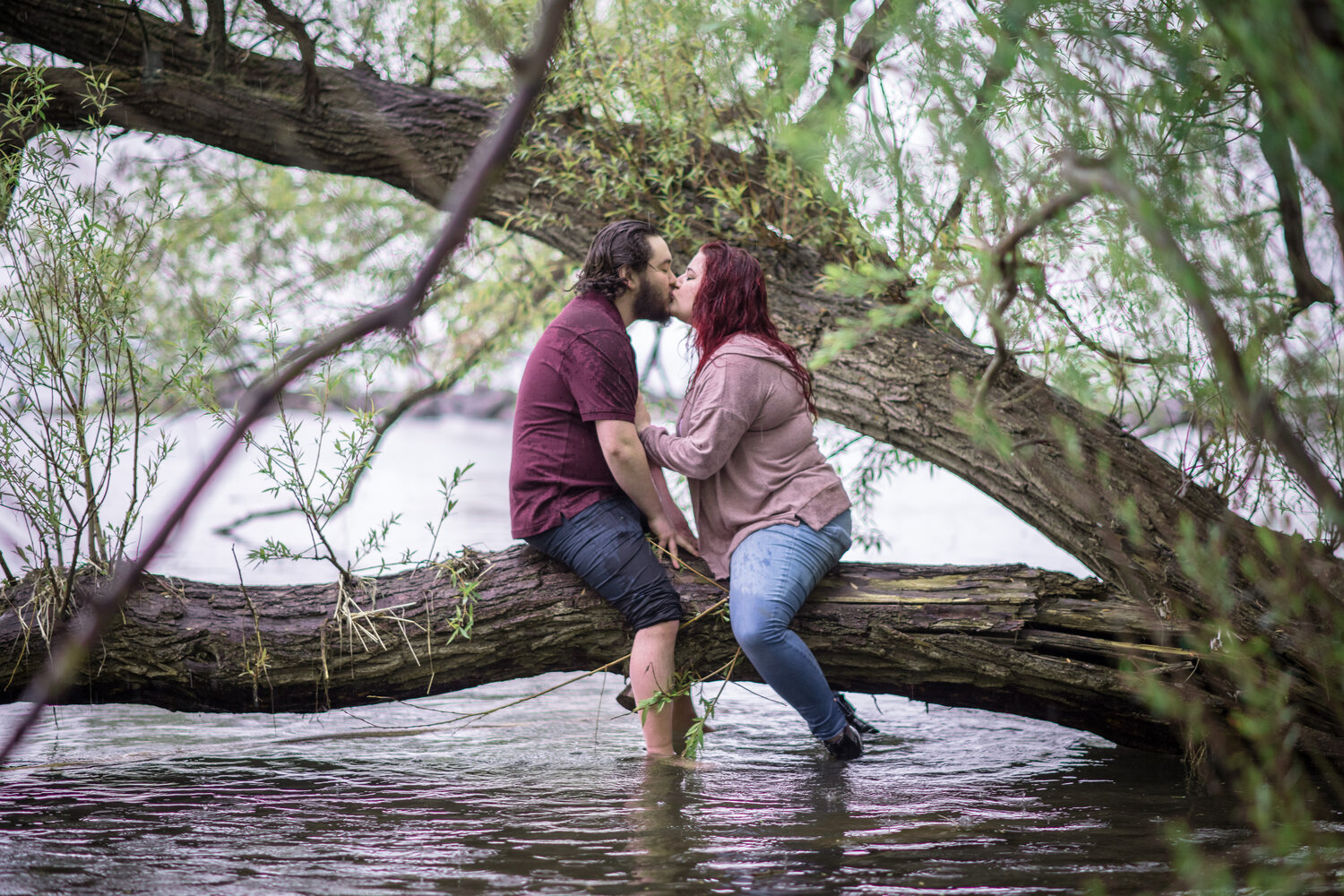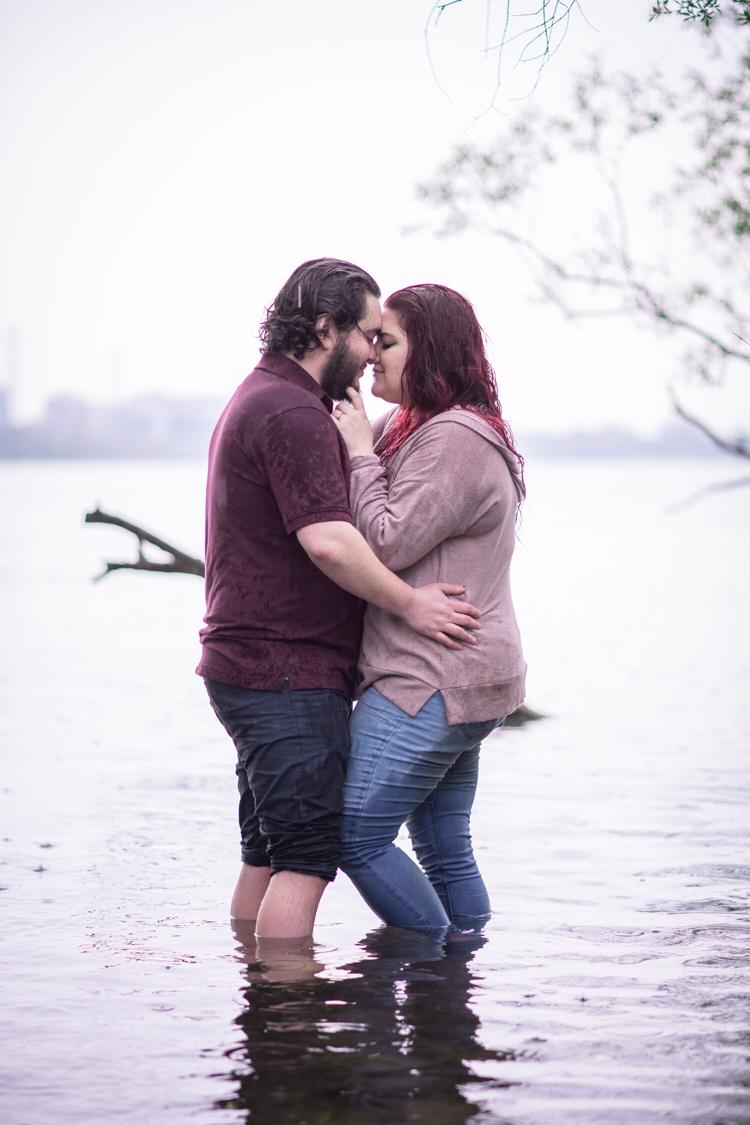 Where Should You Do Your Engagement Photos?
If you don't have a place in mind for your engagement session, your photographer should be able to offer plenty of suggestions for you. But, some of my favourite engagement shoots have been in unique places that have a special meaning to my couple. Did you meet at university? These two did, so we went to Guelph University to do their engagement photos and, not only was it gorgeous and unique, it meant something to them!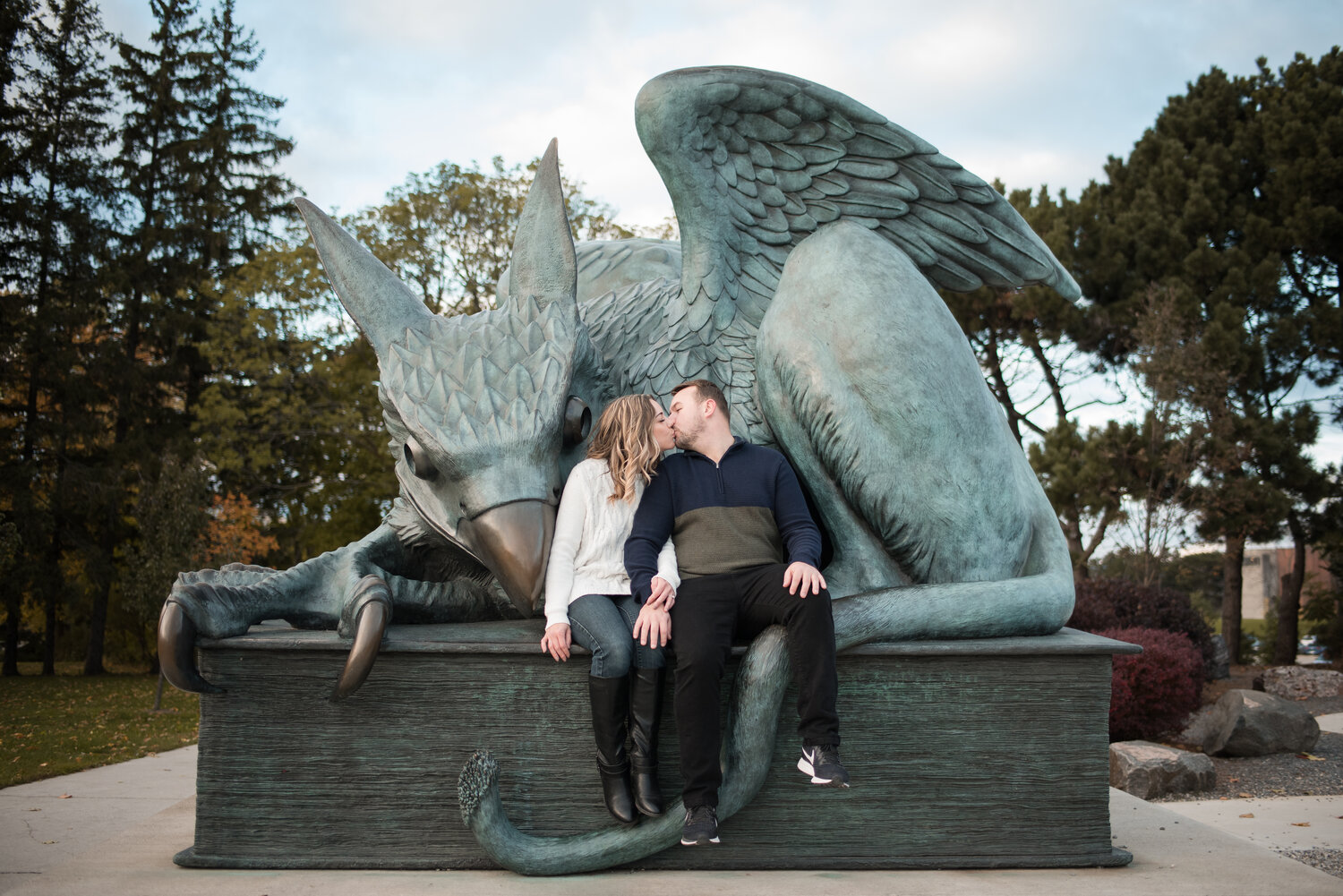 Jenny and Cooper had their engagement photos done at their wedding venue! It was a great way for us to explore the space together before the big day and plan out some cool spots; their engagement session was in winter and their wedding in the fall, so we still had tons of variety!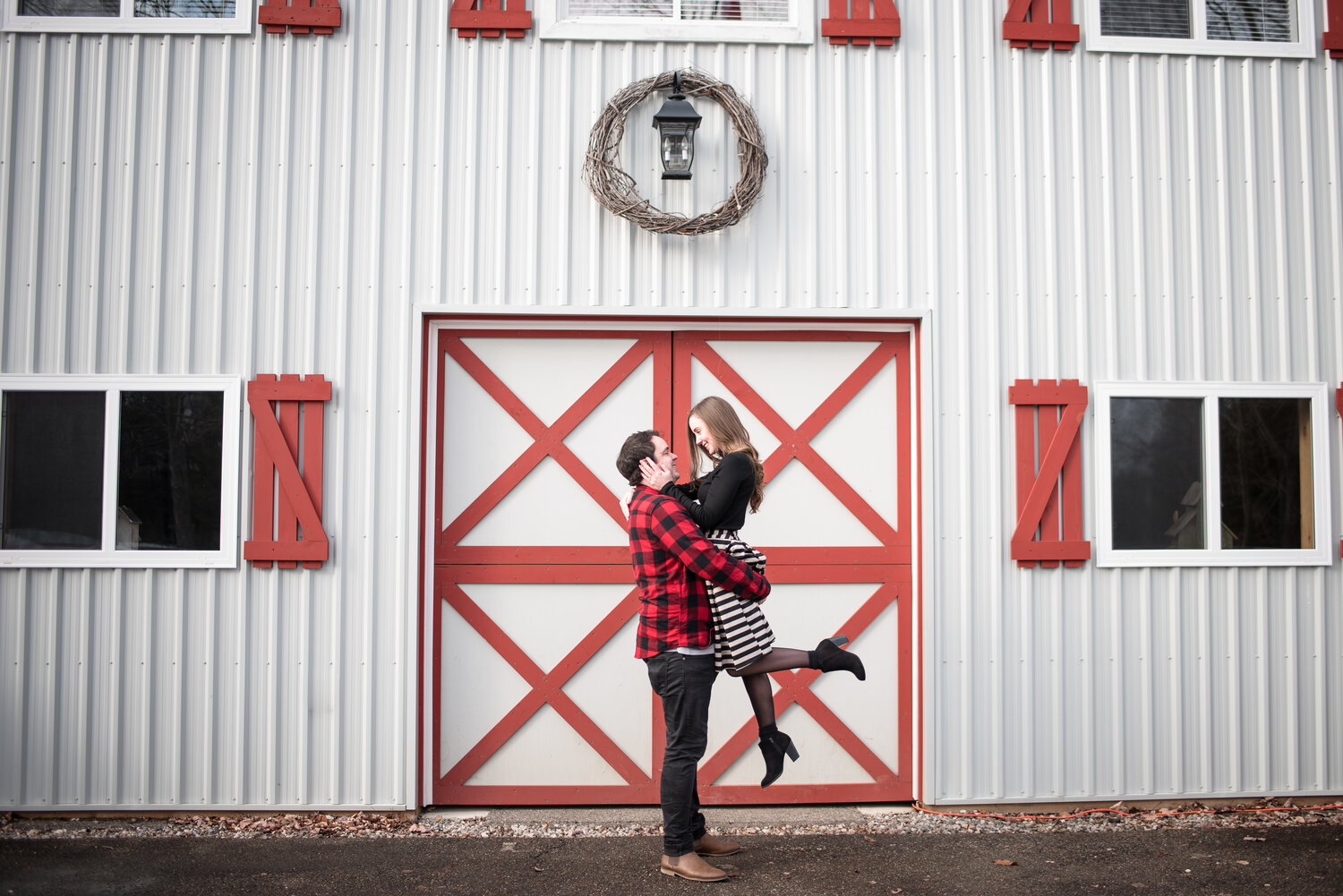 Amanda and Mike wanted something gorgeous and adventurous that would also show off the fall colours - so we hiked to the top of Dundas Peak for their engagement session!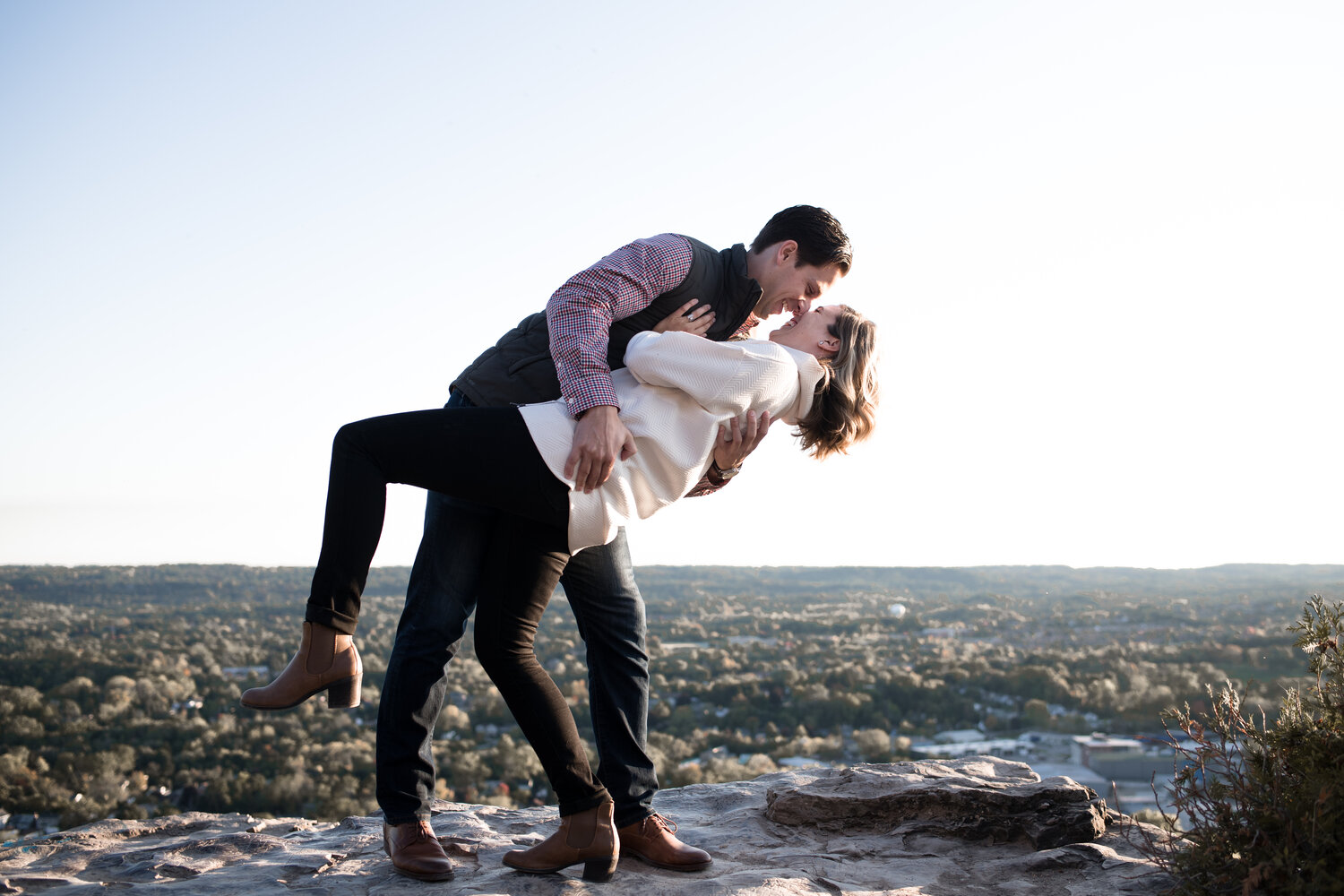 One great example of something different was Shae-Lynn and Eric who told me they both loved books, and would often go on dates just to read together! I found an amazing little bookshop in Waterdown, ON called Pickwick Books that let us come in before opening to have the place to ourselves. We got such uniquely personal photos of Shae and Eric being their silly selves.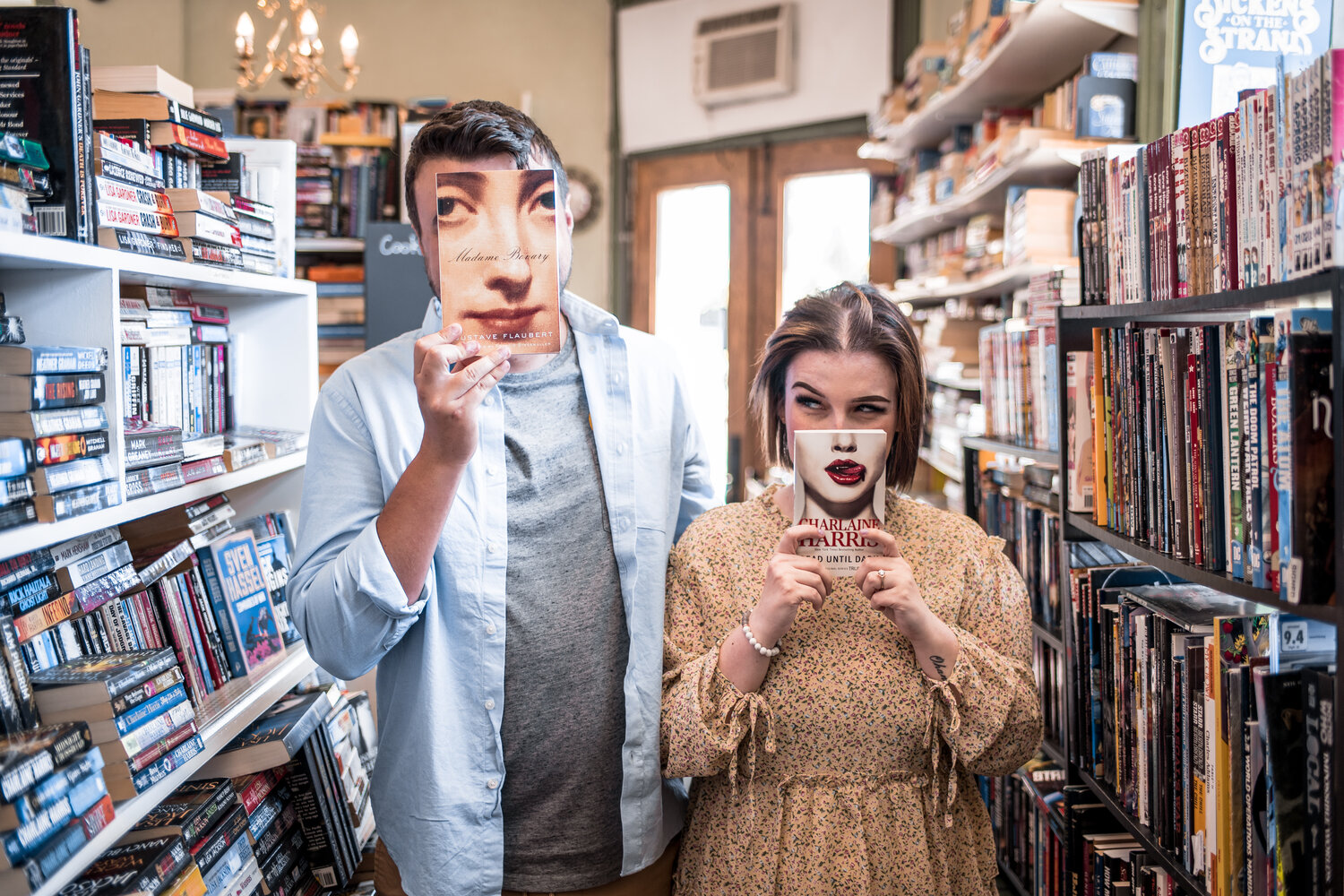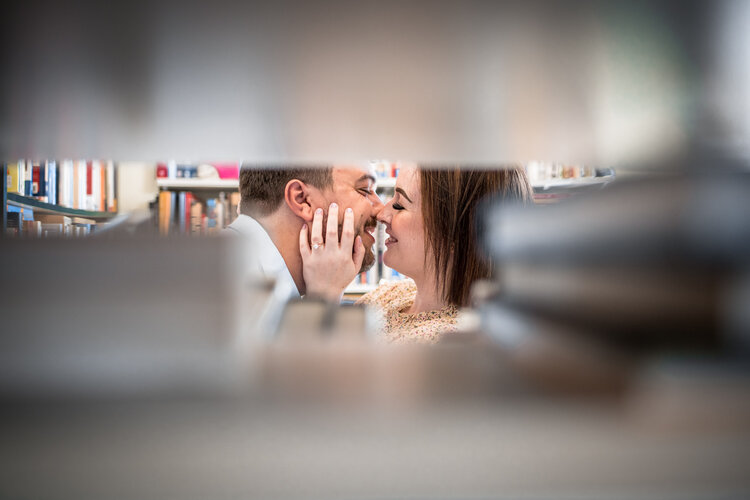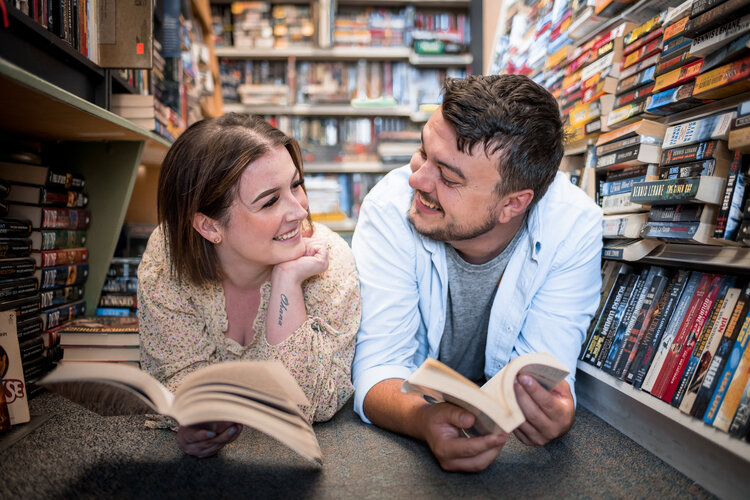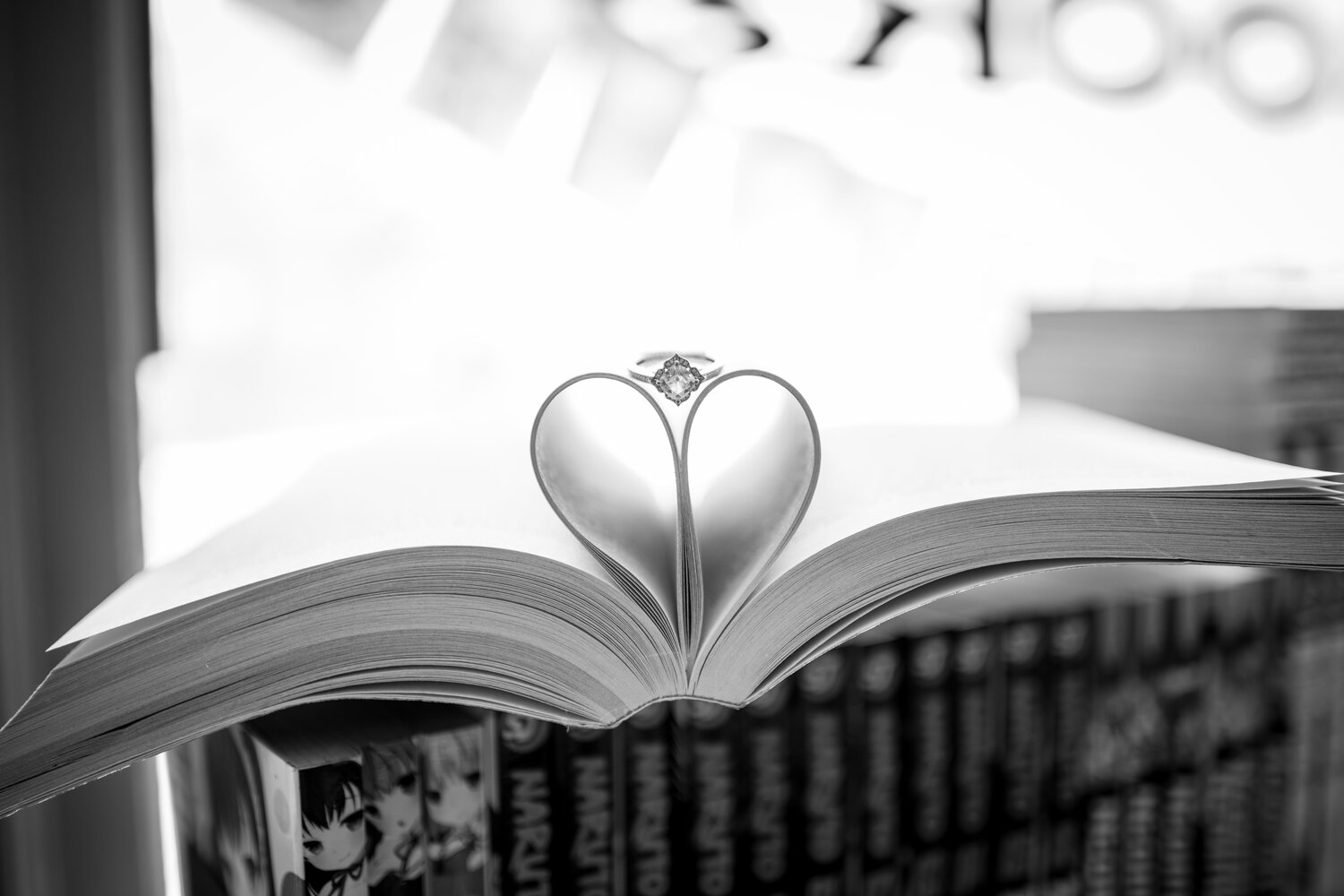 Should You Bring Props to Your Engagement Session?
That last shot of Shae-Lynn's engagement ring brings me to my next topic: props! Are they necessary? Not at all. It could be something as simple as your engagement ring. Most of us engagement photographers will get a classic ring shot, but if your ring means something extra special to you - mention it! And, for that matter, if anything at all means something extra special to you or your partner, let your photographer know so they can make sure they capture that for you. I had one couple who let me know that their faith meant alot to them, and they asked for a photo of their matching cross necklaces. Something so simple can mean the world, so it's nice to have a photo to capture that side of your relationship.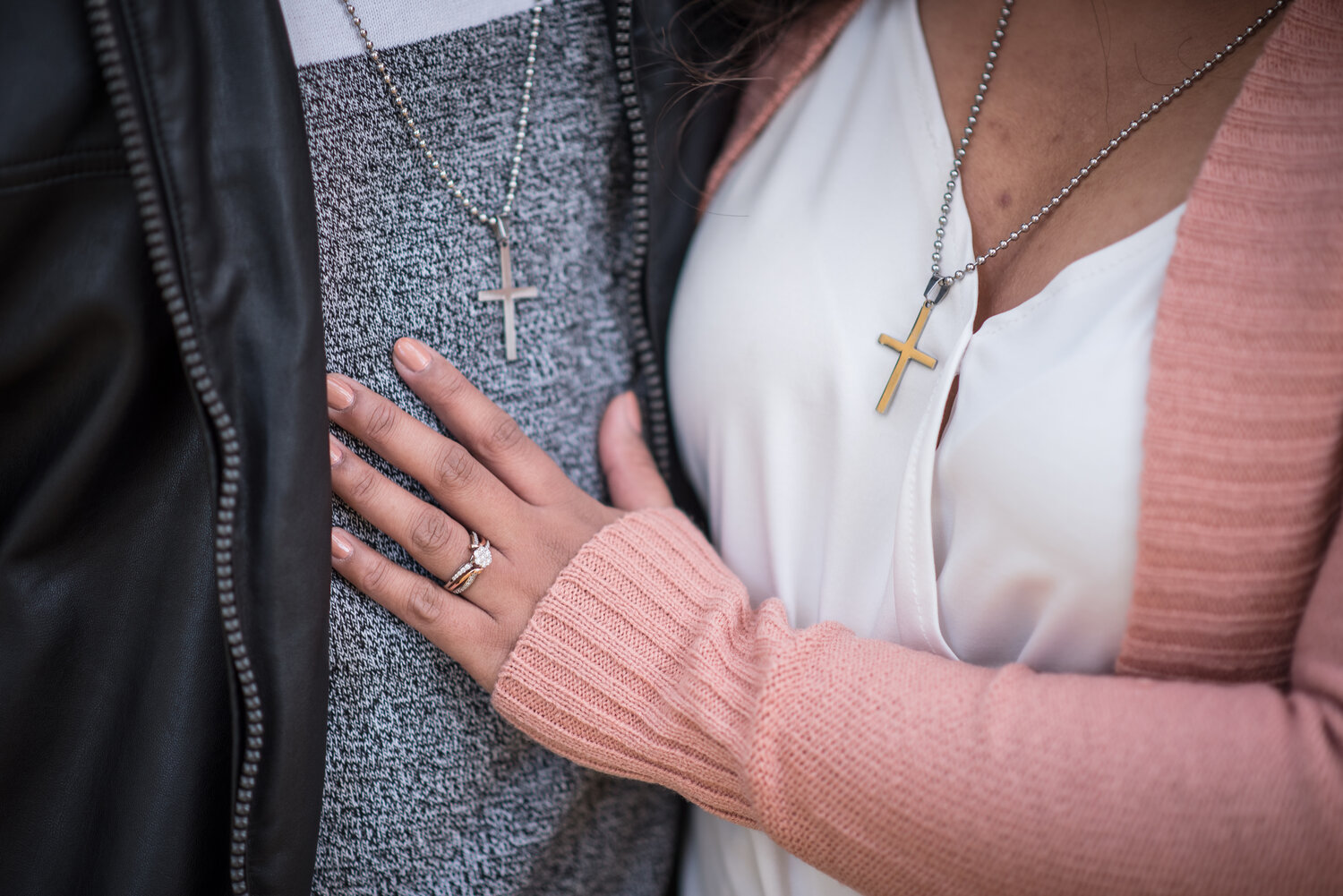 It's extra special when your ring shot or props go with the theme of your engagement shoot or even your wedding! Getting married in the fall? Use some leaves! Getting married in October? Use a pumpkin! Getting married on the beach? Use the sand! Getting married in the winter? Use some snow! Bring something simple like a blanket you snuggle together under at home, or some cute mugs that say something about you or your relationship. Many of my couples bring props with their wedding date on it. This is great for save the dates, or just as a fun memory so you don't forget your anniversary ;)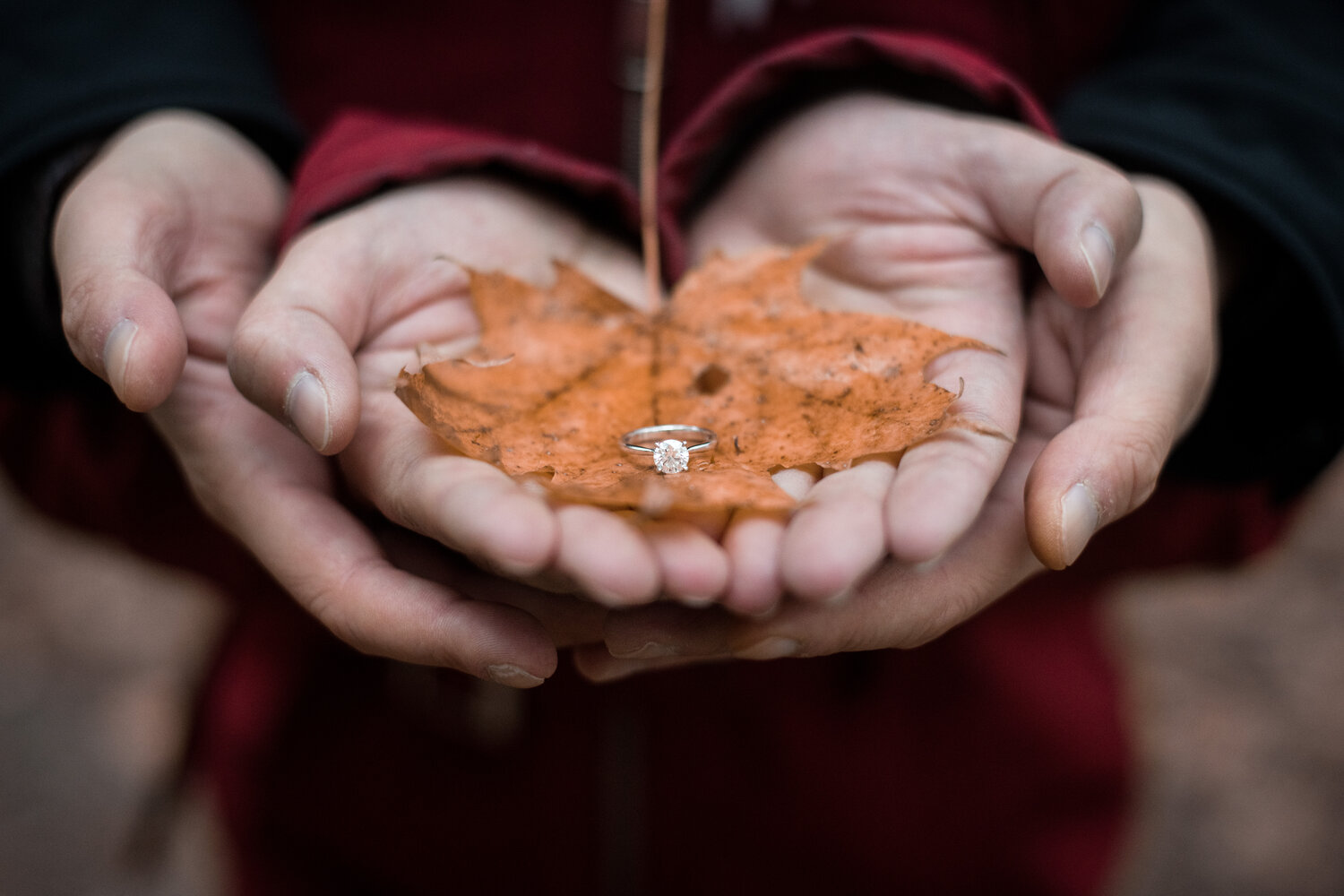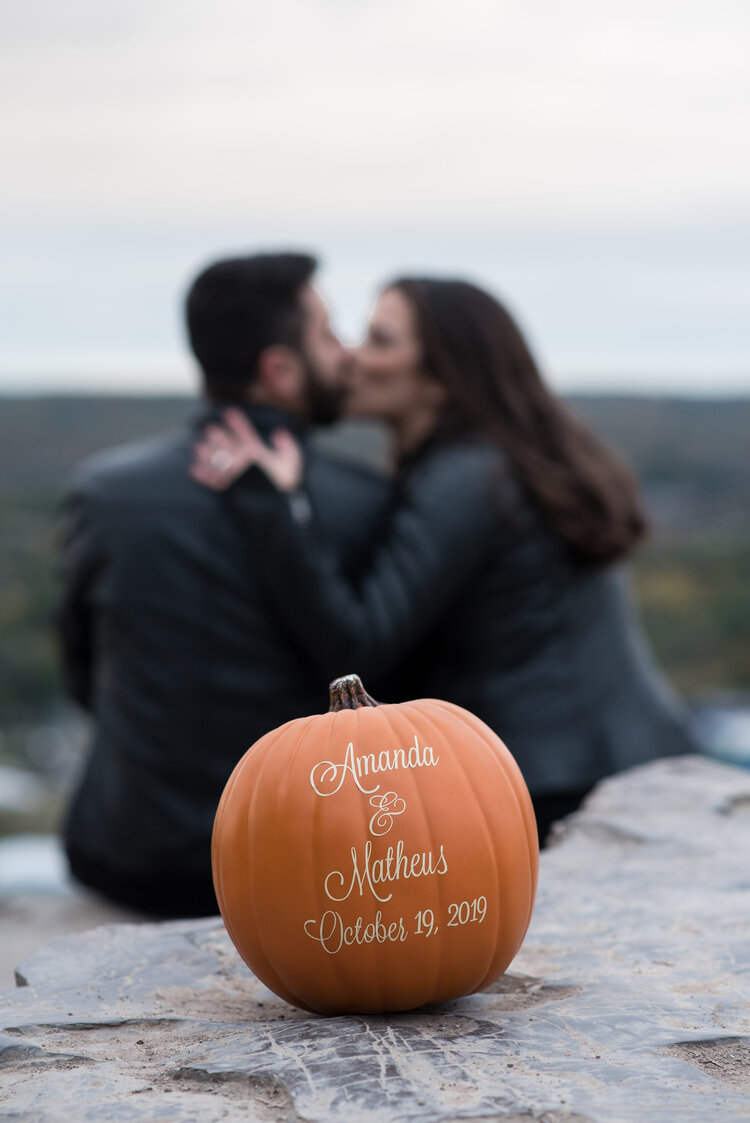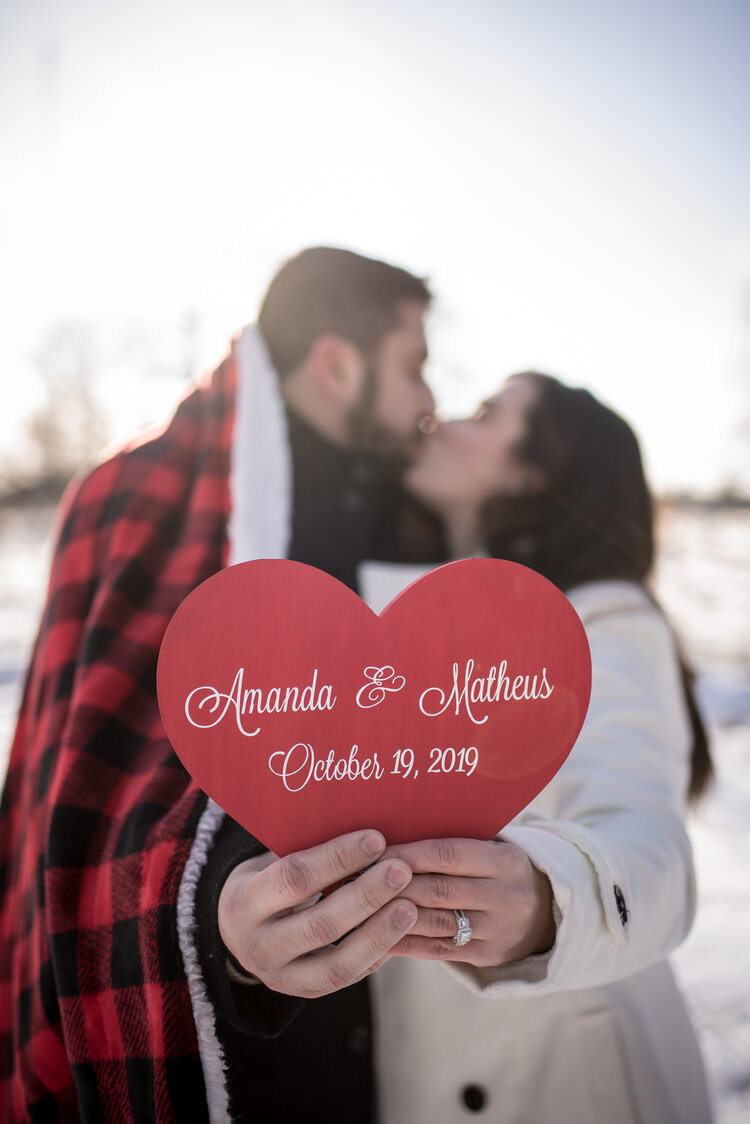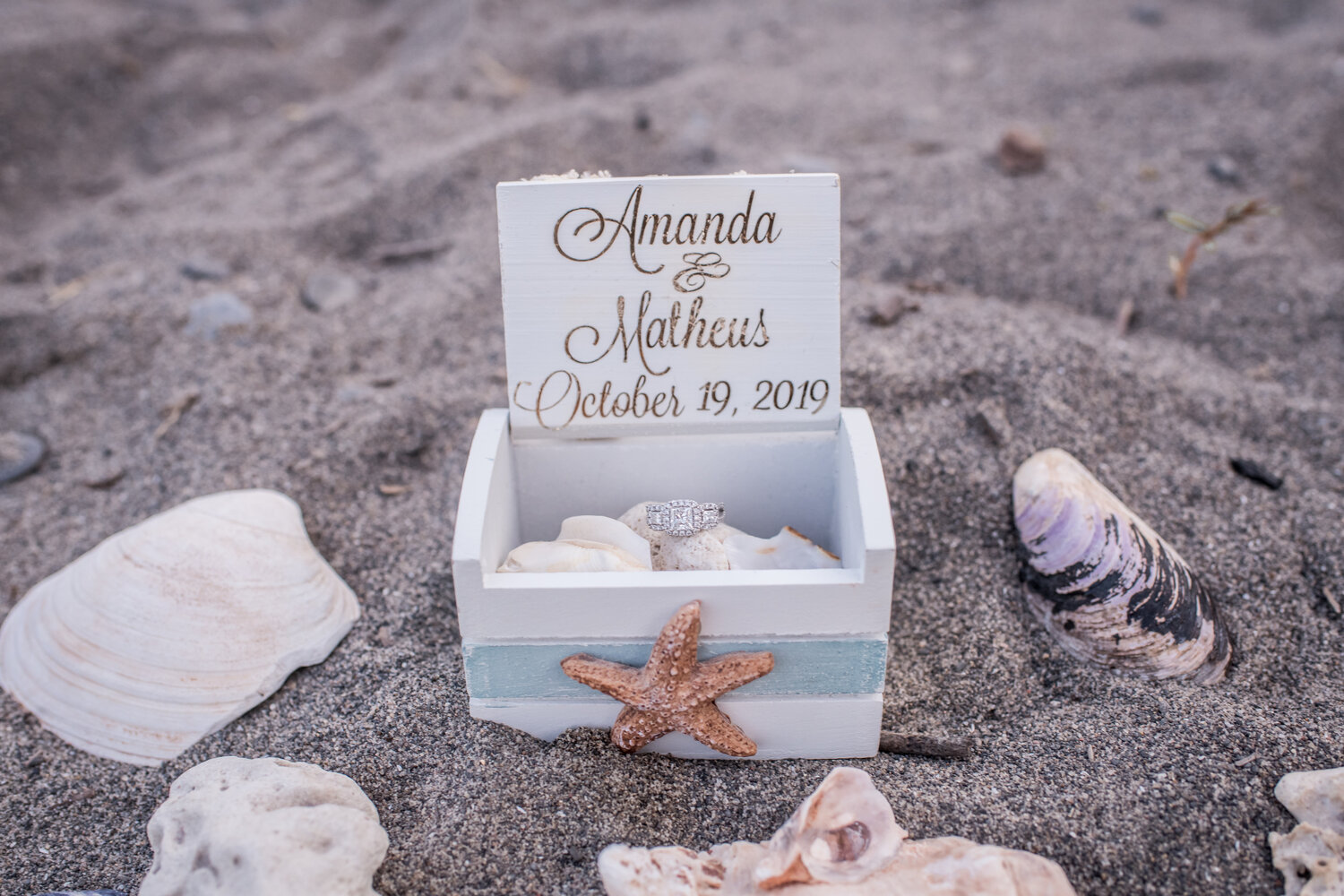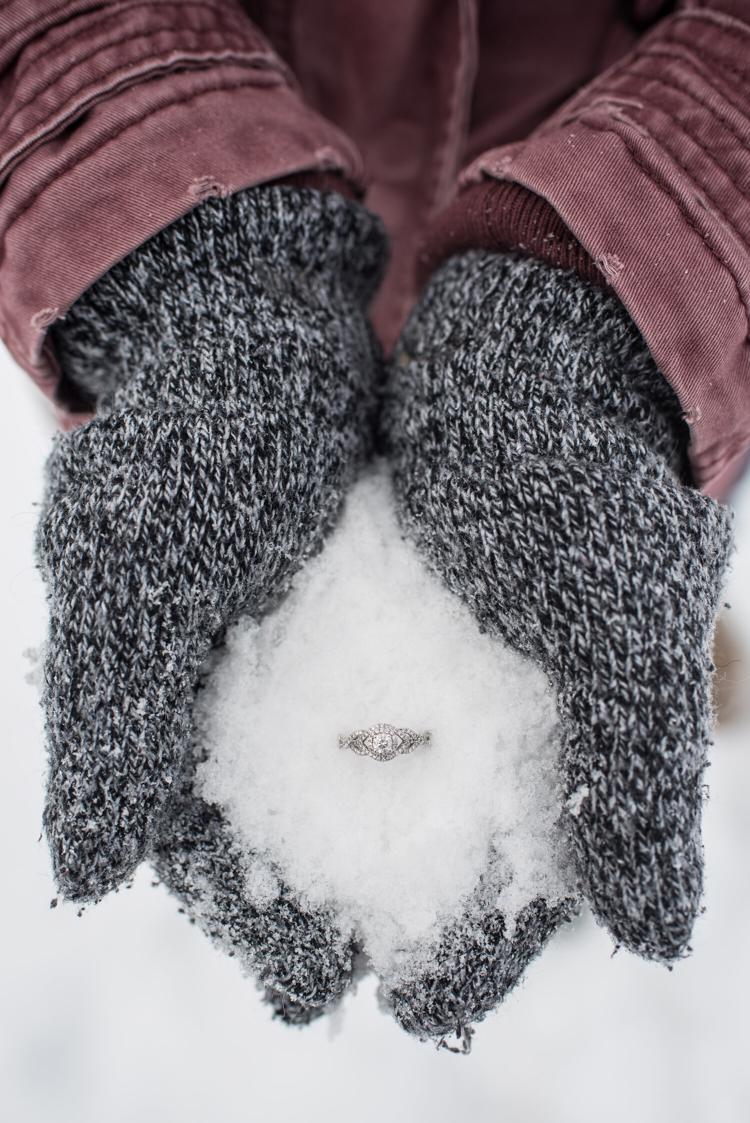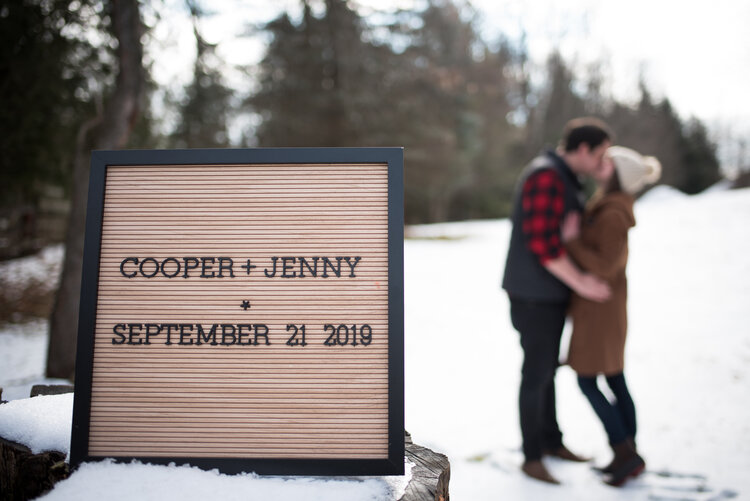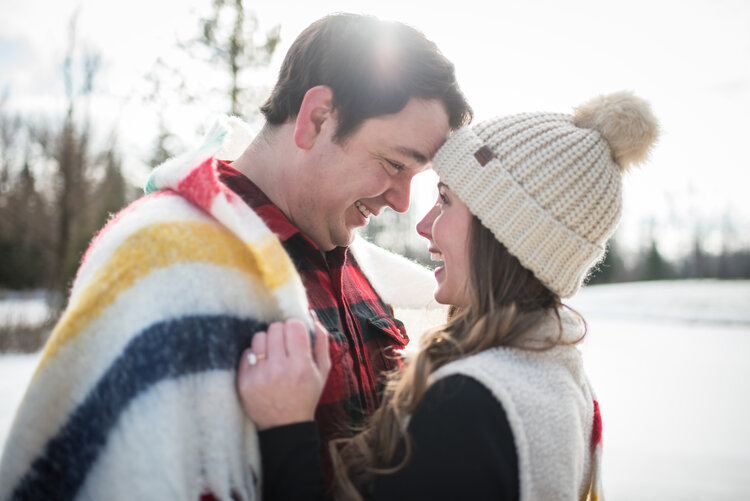 Should You Bring Your Dog(s) to Your Engagement Session?
YES! What better addition to your engagement photos than your fur babies?! As long as your location allows your furry friends, and your photographer is cool with it, bring your pups to your shoot with you! One tip, though, is to have someone come along to play dog-handler so you can get a few shots without the pups too.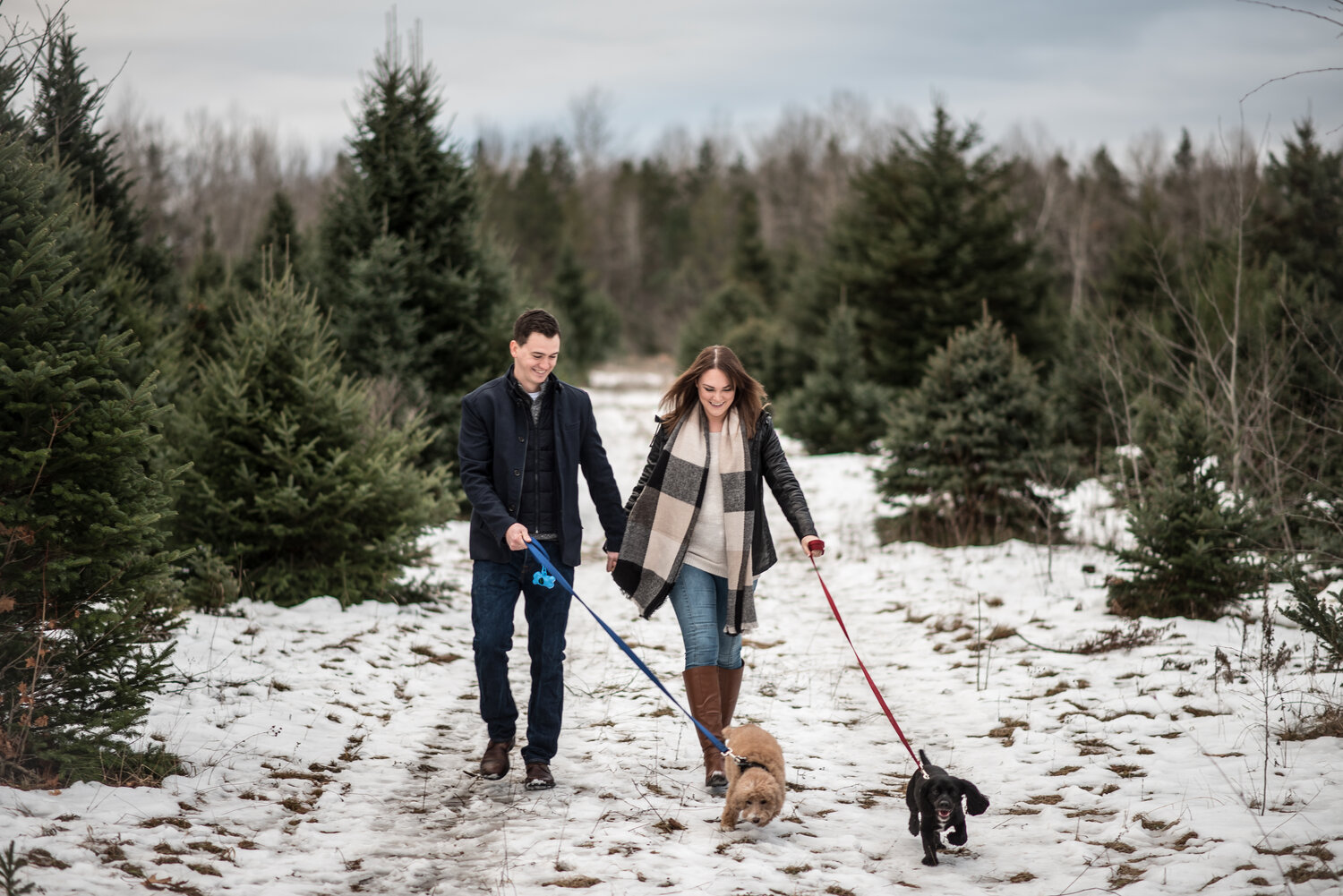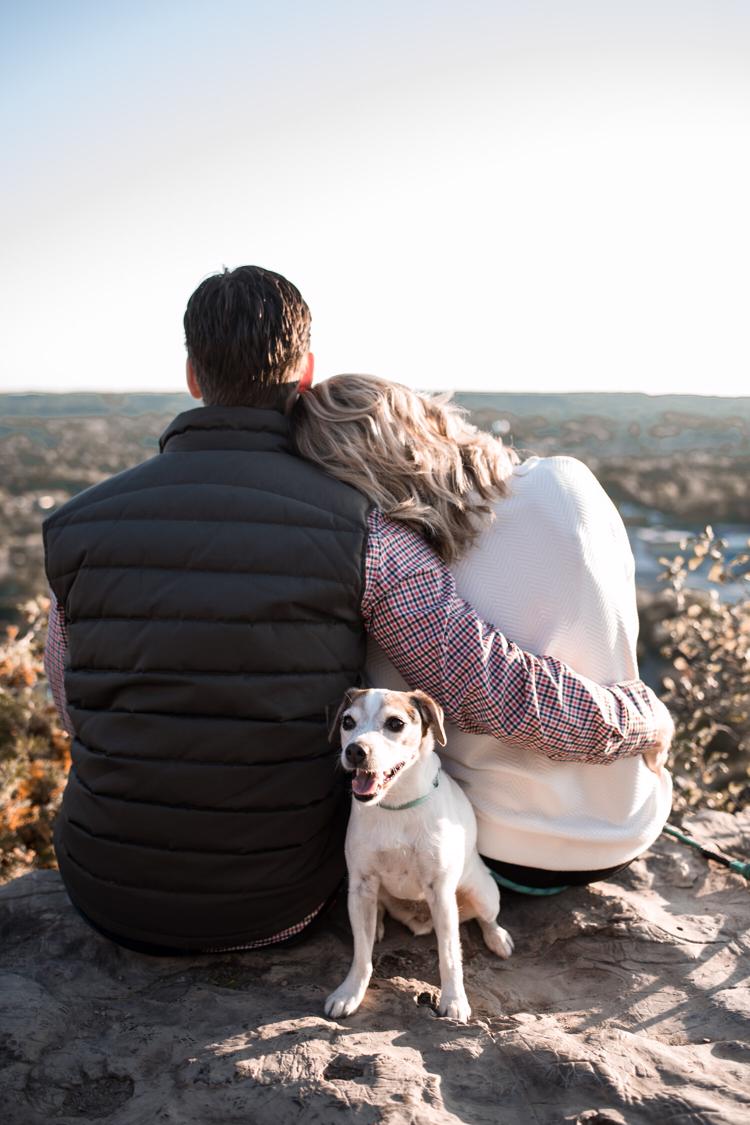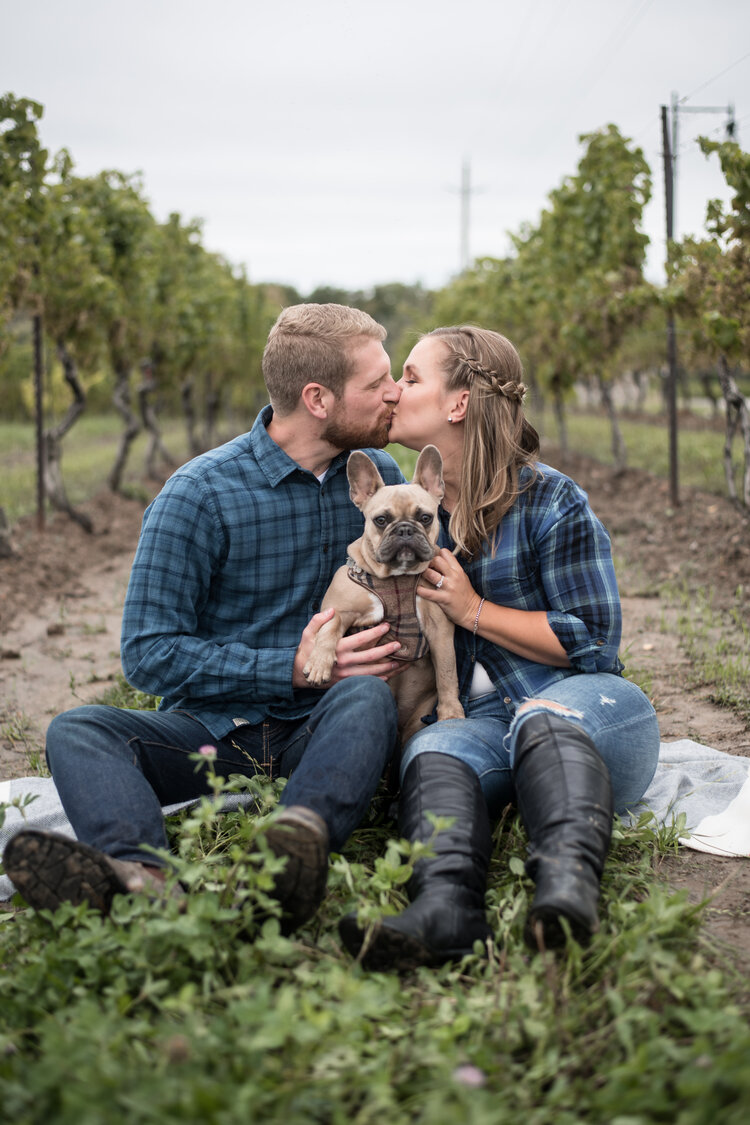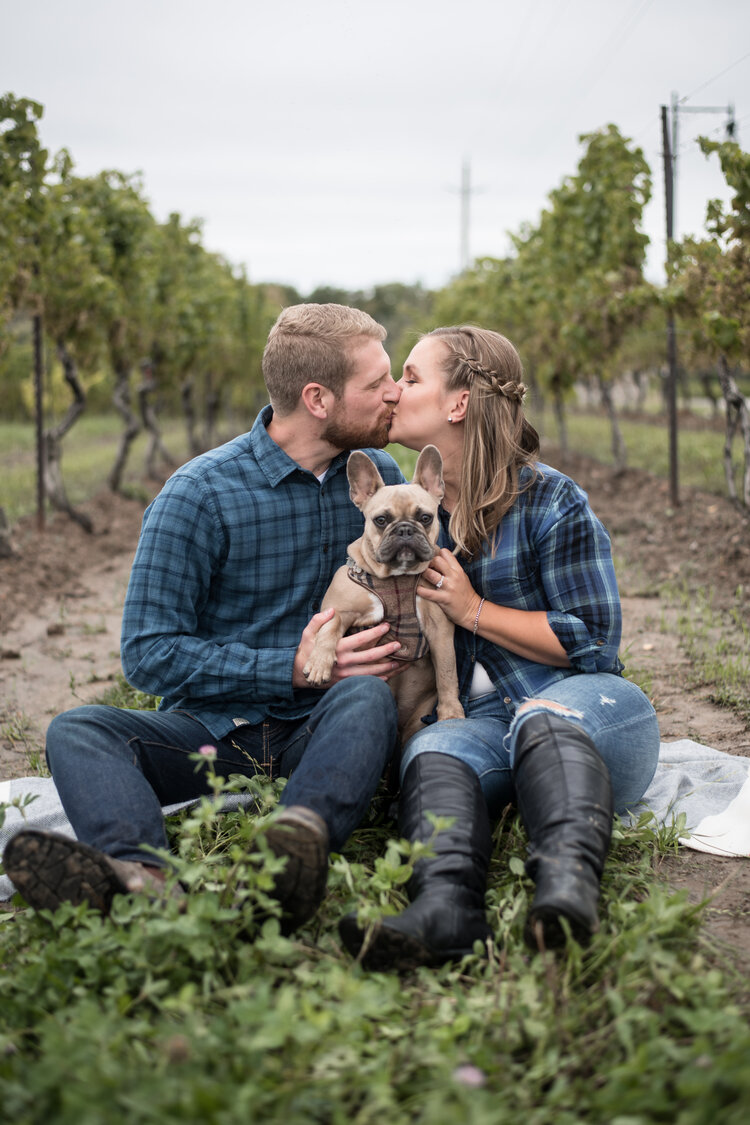 What Should You Wear for Your Engagement Session?
Props and pups can be wonderful additions to your engagement photos… but what about your outfits?! If my couples ask my opinion on what they should wear, I try not to be too specific. I want you to be yourselves, and to be comfortable. BUT, I also wouldn't recommend wearing lots of crazily coloured clashing patterns either! One simple tip is to not wear something that is the same colour as your background: if you're doing a sunflower engagement session, don't wear yellow. Another idea is to bring a couple of different outfits to get some variety in your photos. Some couples bring a casual outfit and a fancy outfit to show two different sides of themselves. But here are a couple of simple rules that I recommend sticking with:
Option 1: Both wear solid colours from the same palette. Have you ever gone to Home Depot to choose a paint colour? You know those palettes they have with a few complementary colours on one swatch? That's what I mean! Try two darker shades like navy and burgundy, or two pastels, or each pick an earth tone. Black and white are usually safe choices too… they go with everything!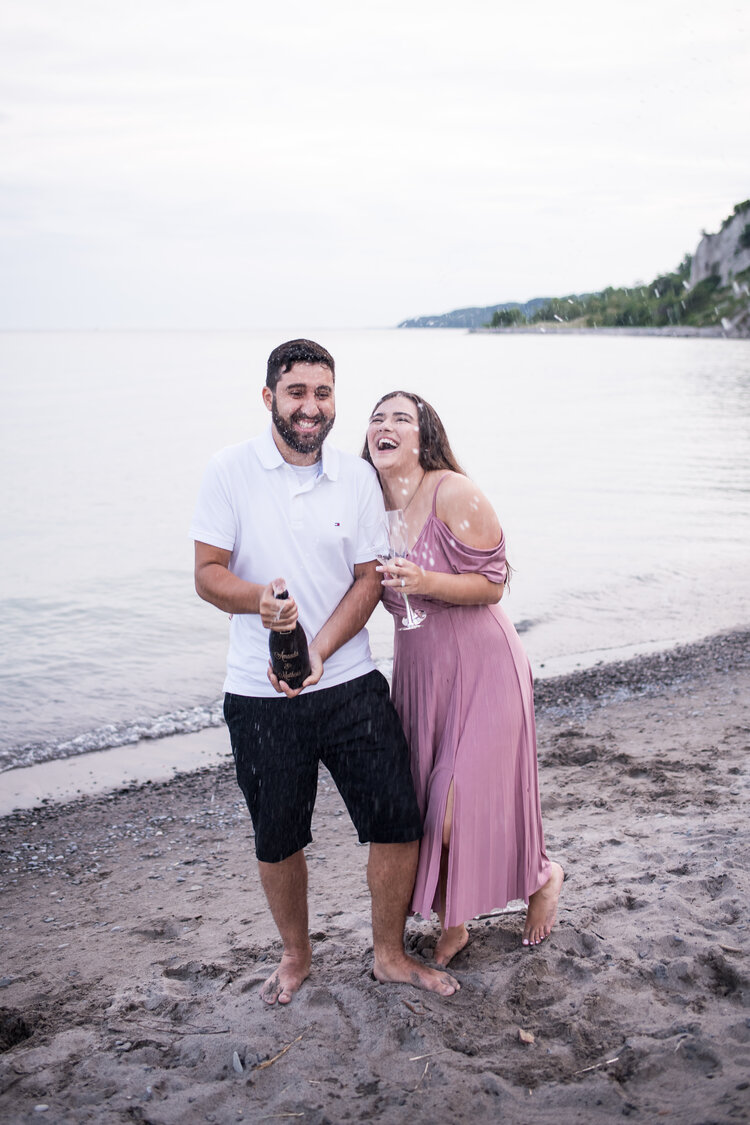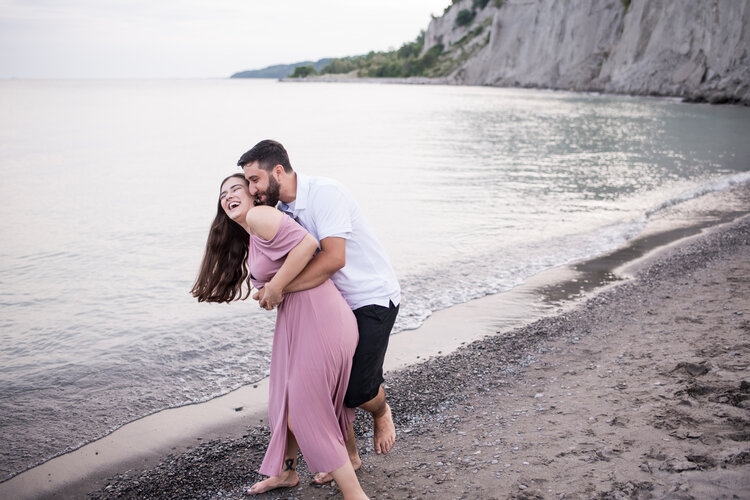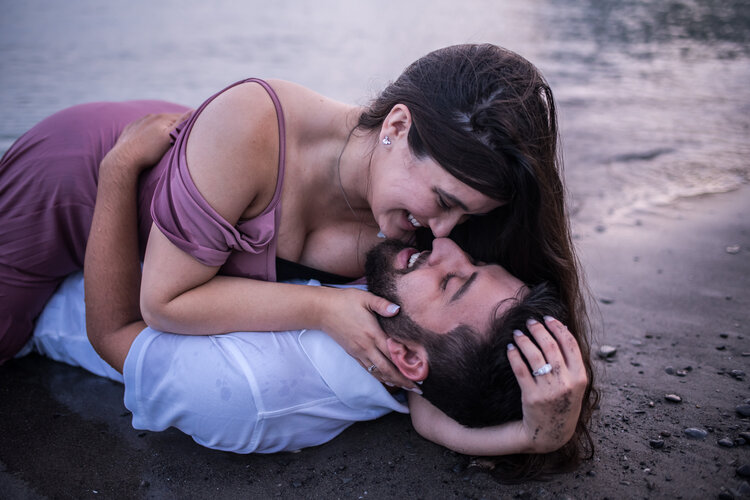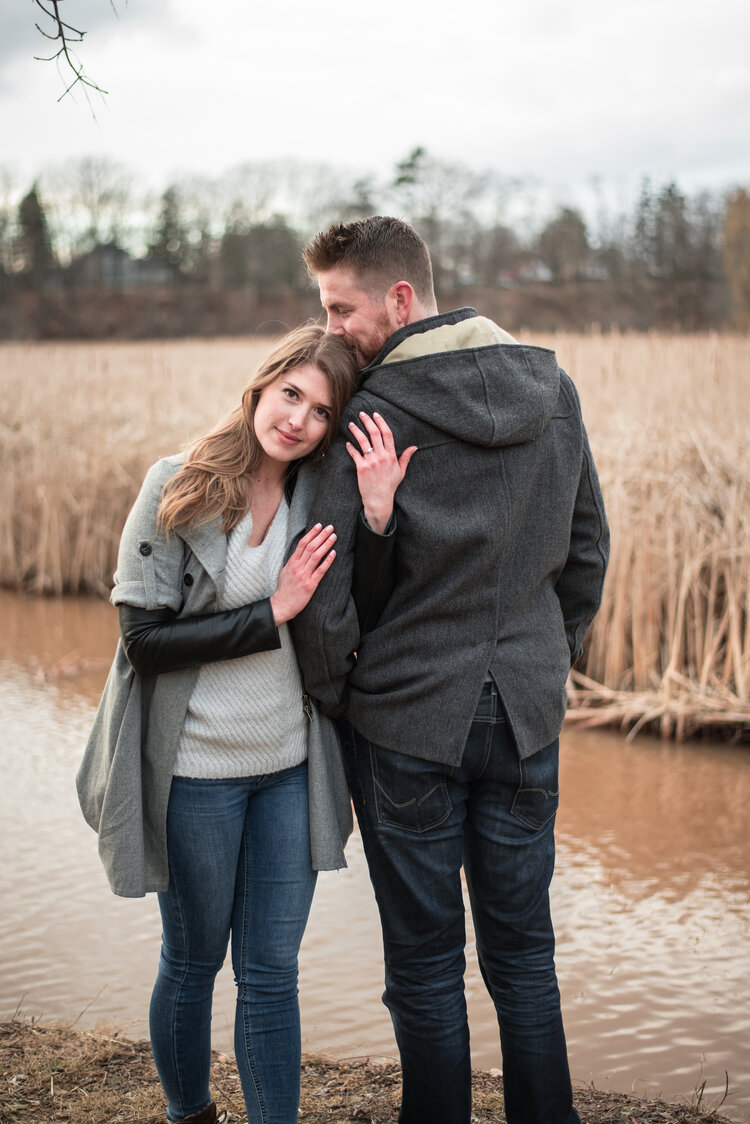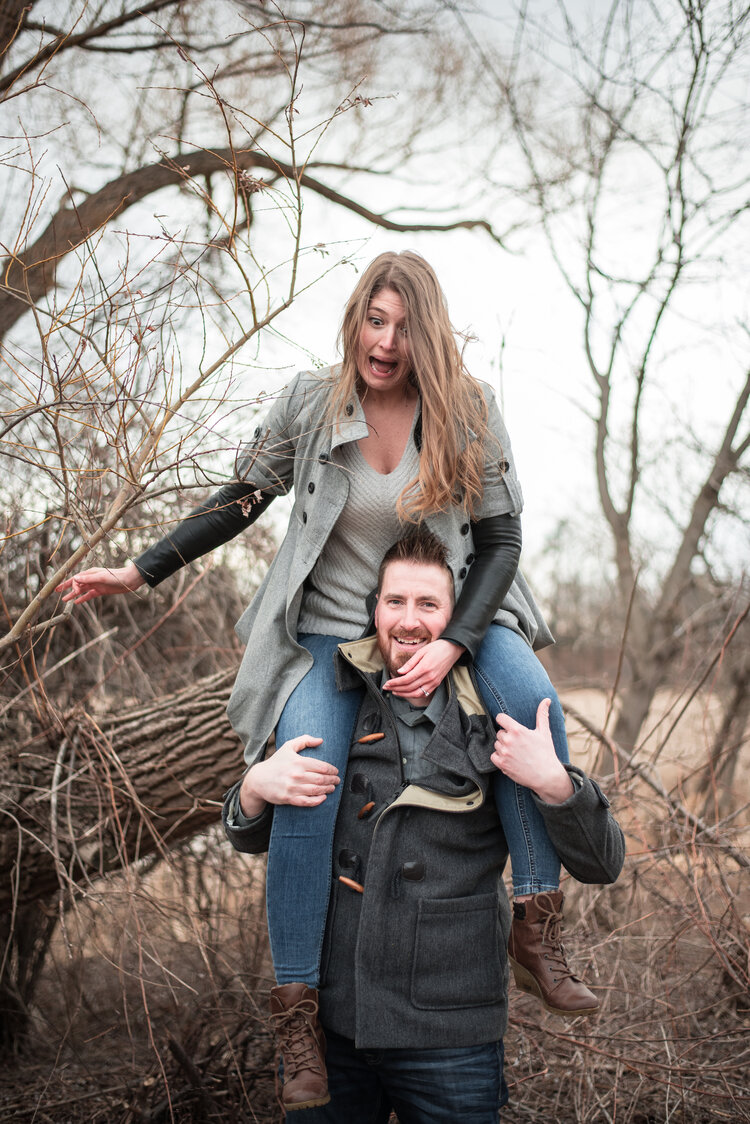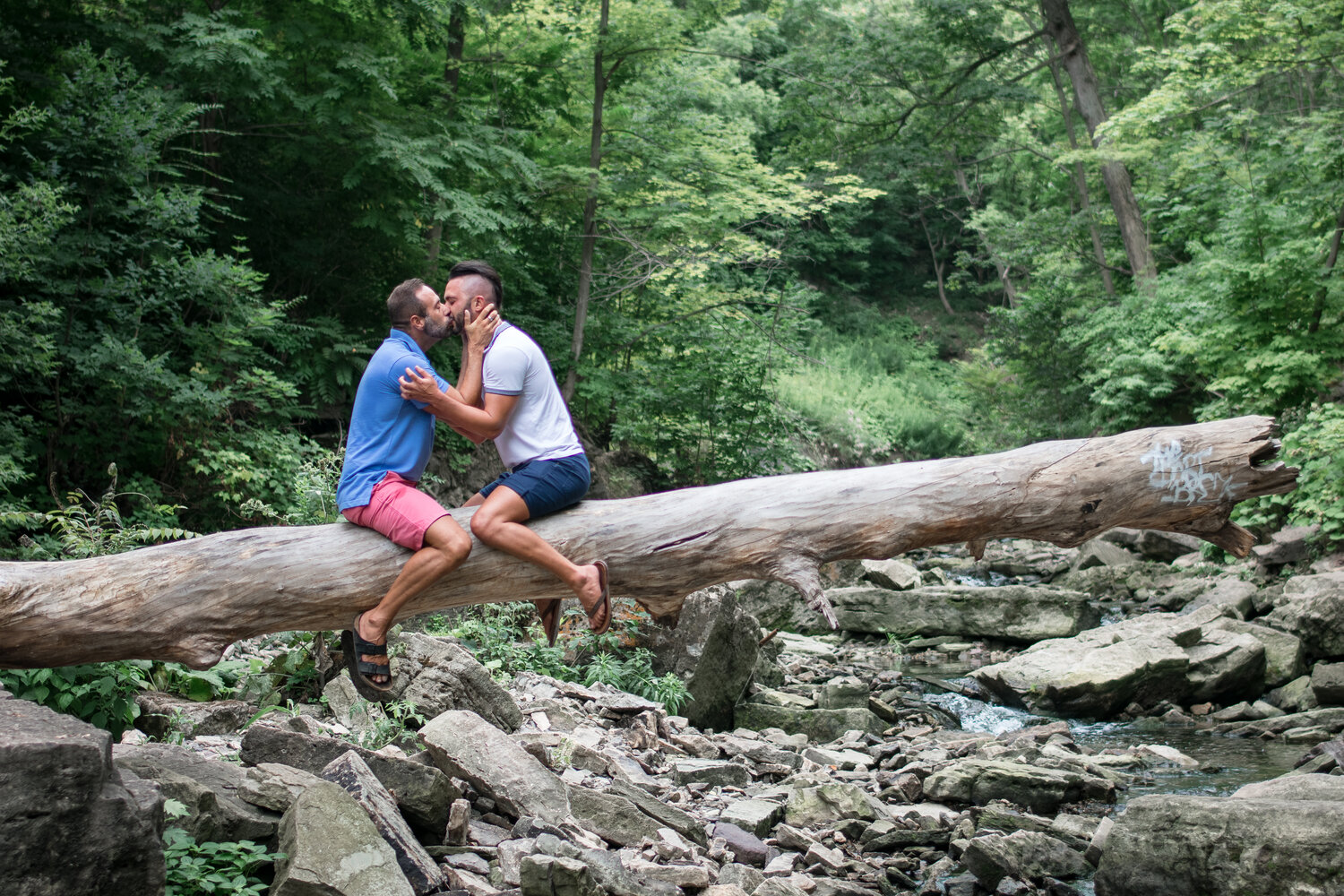 Option 2: One of you wear a pattern, and the other wear a solid colour found in that pattern. This is the most picturesque combination in my opinion! Check out the following examples to see what I mean: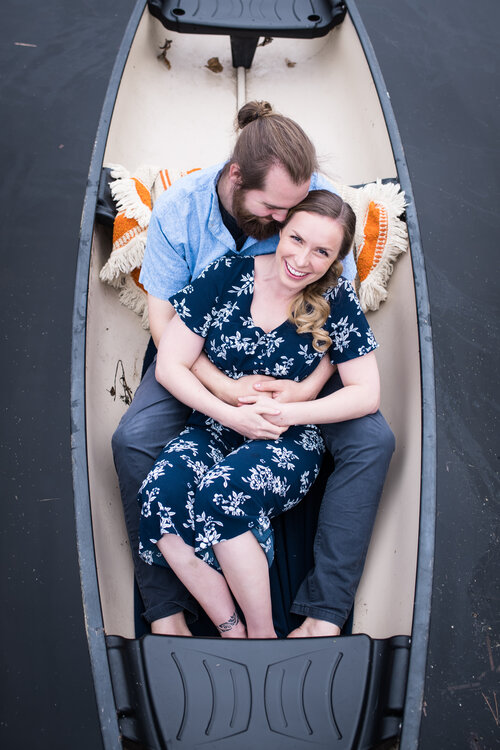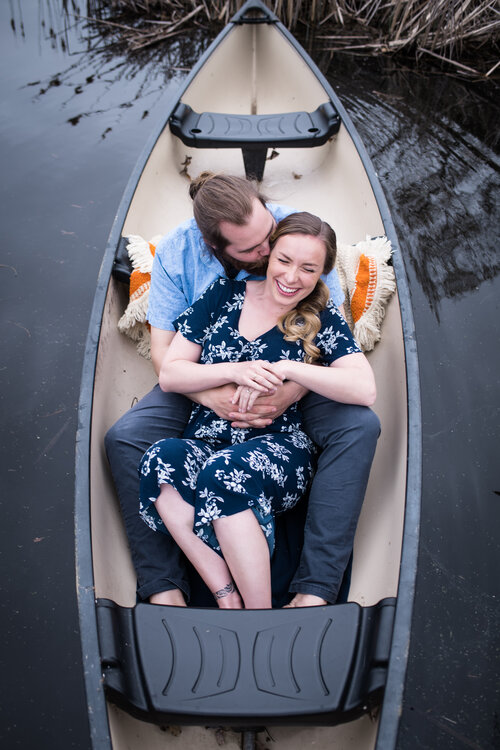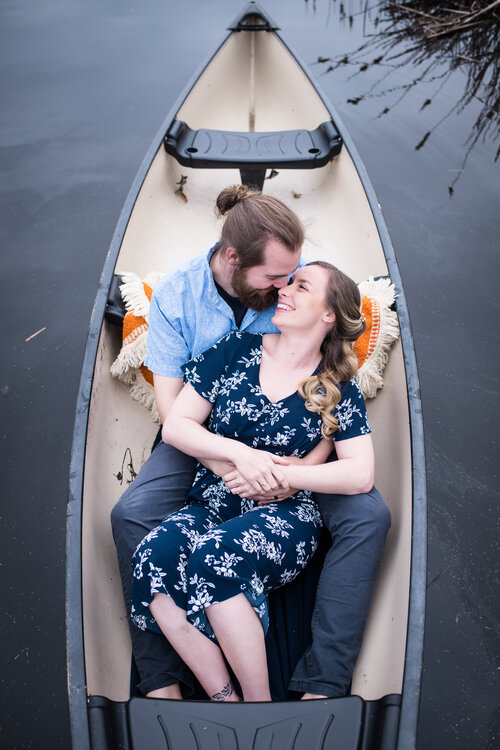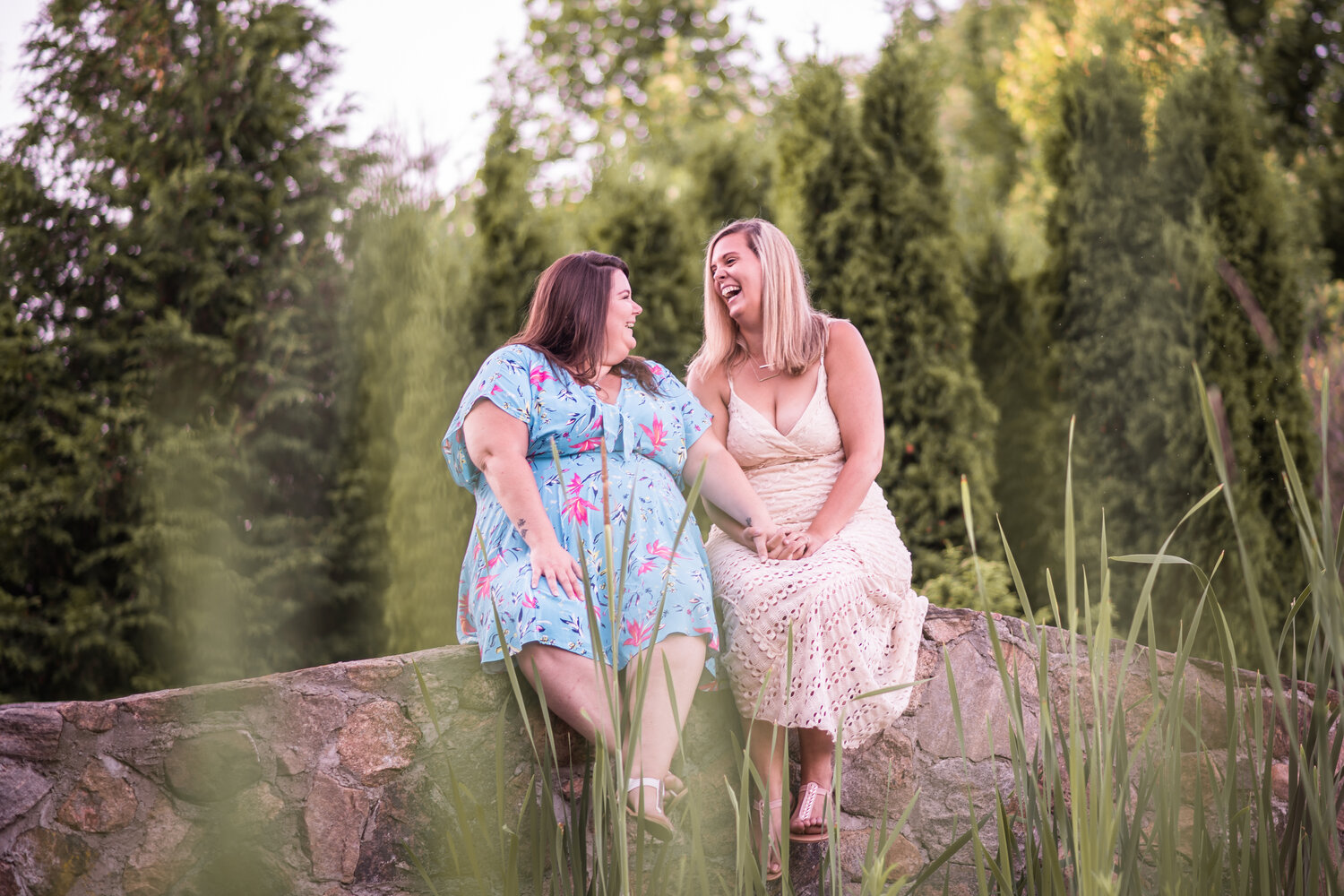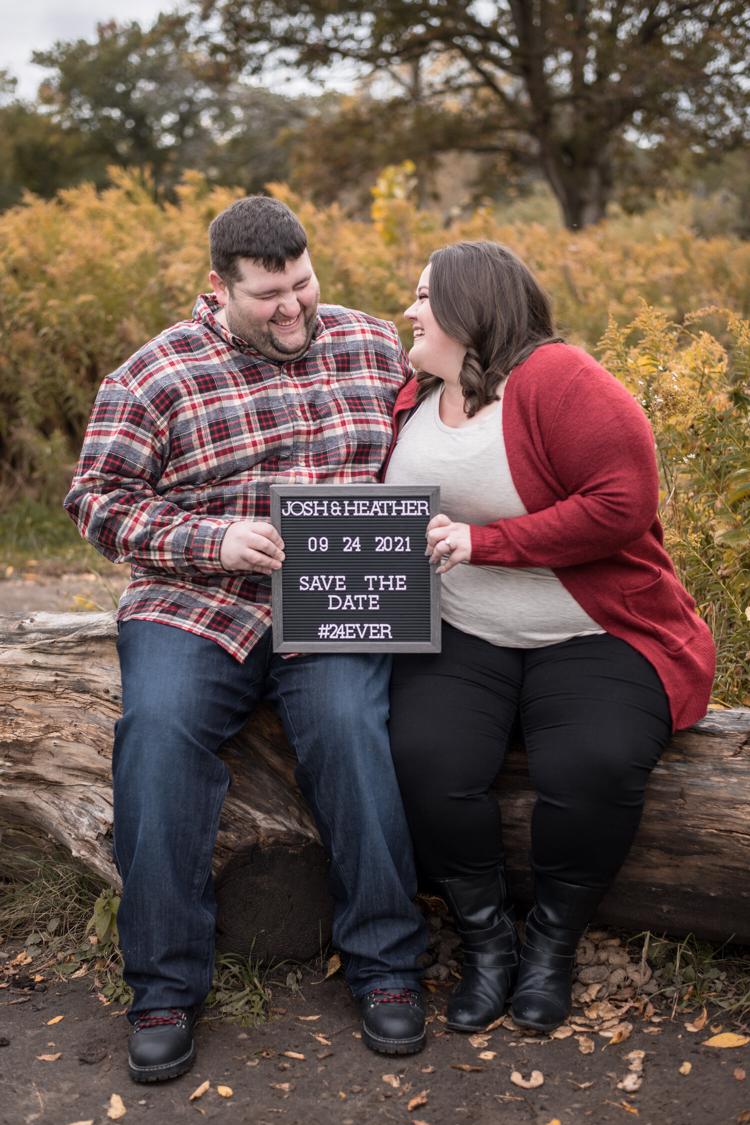 Option 3: Wear white! I love it when my brides wear white to their engagement session - it's so bridal, and what better time to be bridal than for your engagement photos?!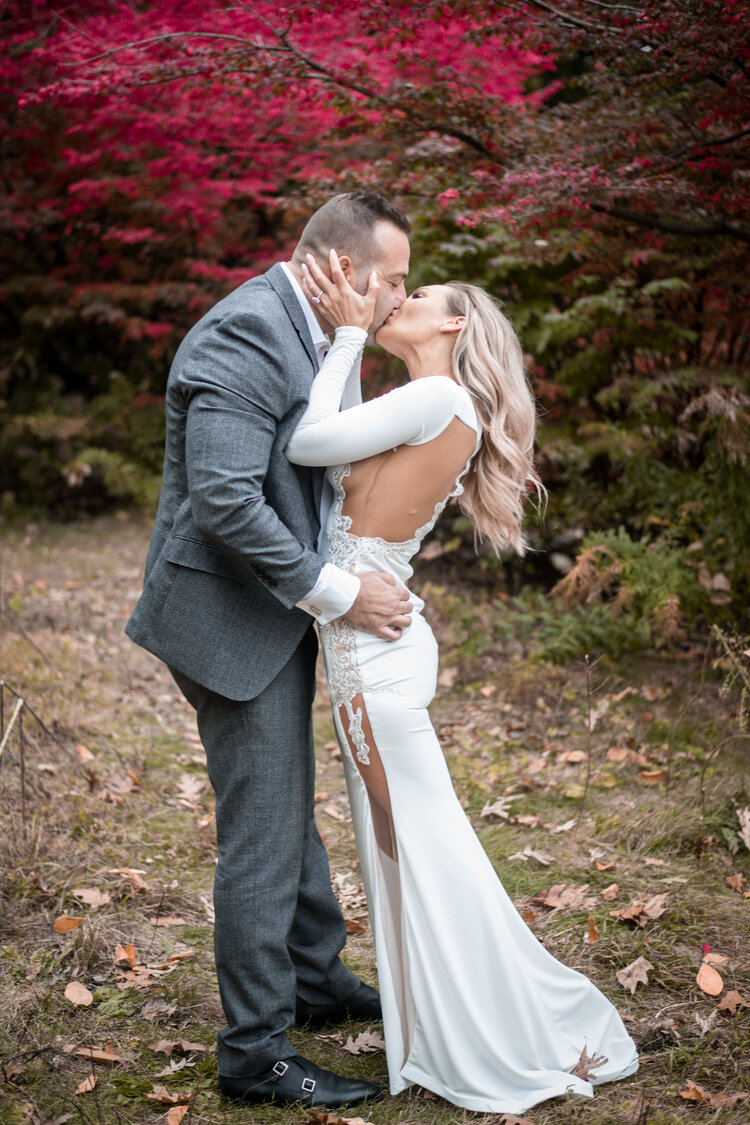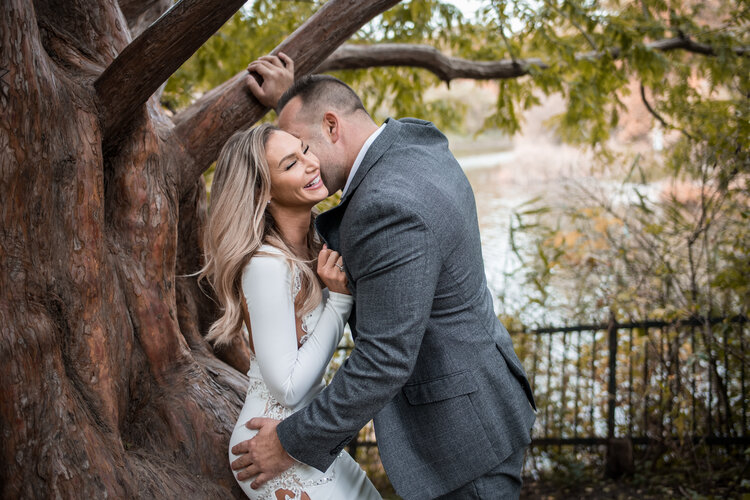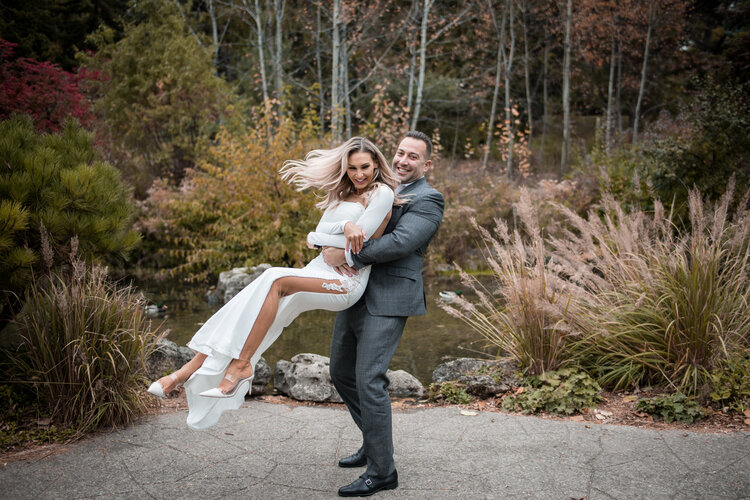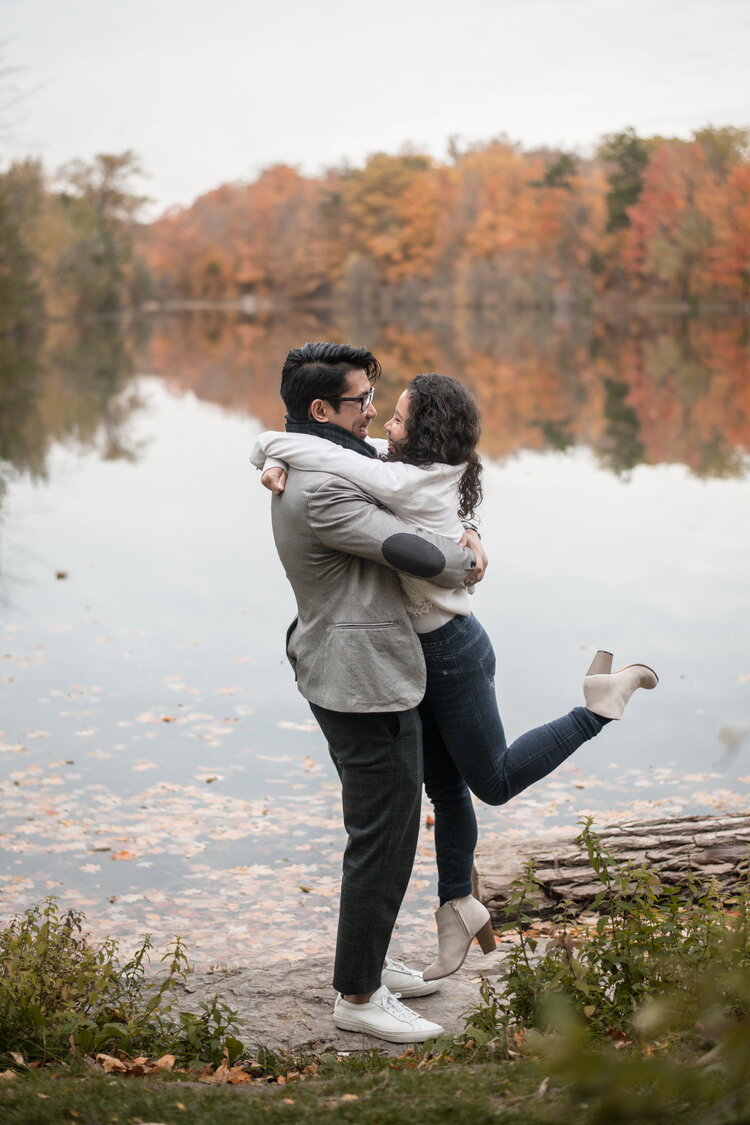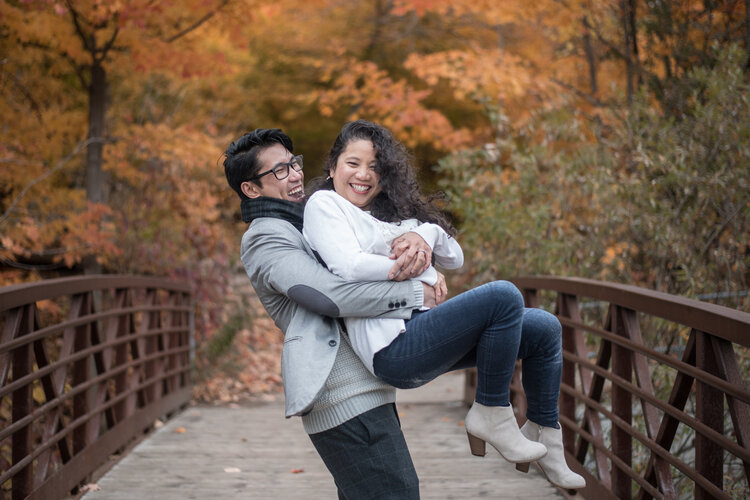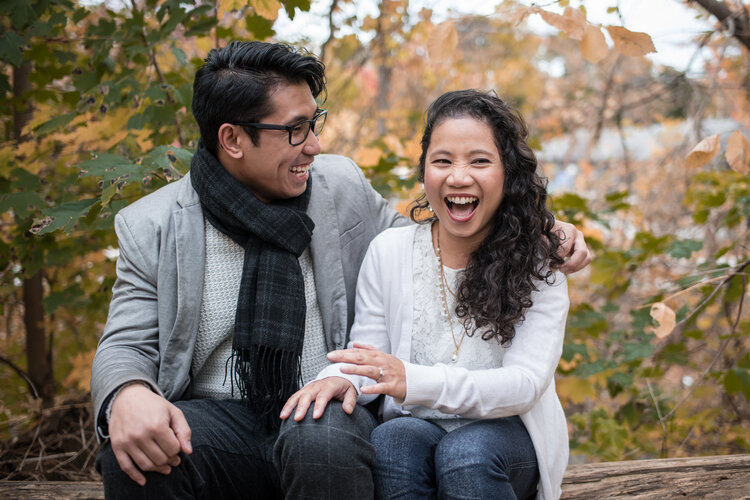 Option 4: Matching outfits. This is SO cute! And you can't clash when you're wearing the same outfit :)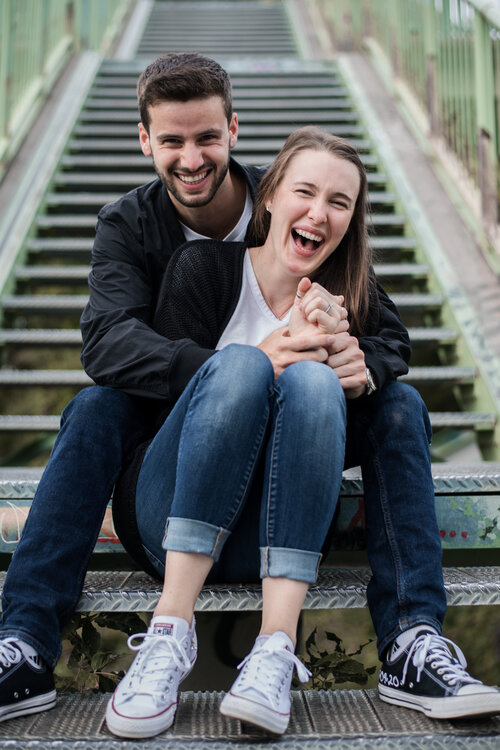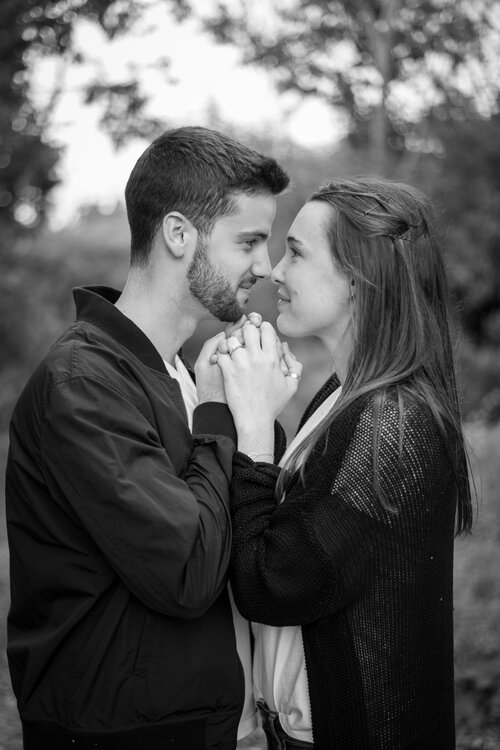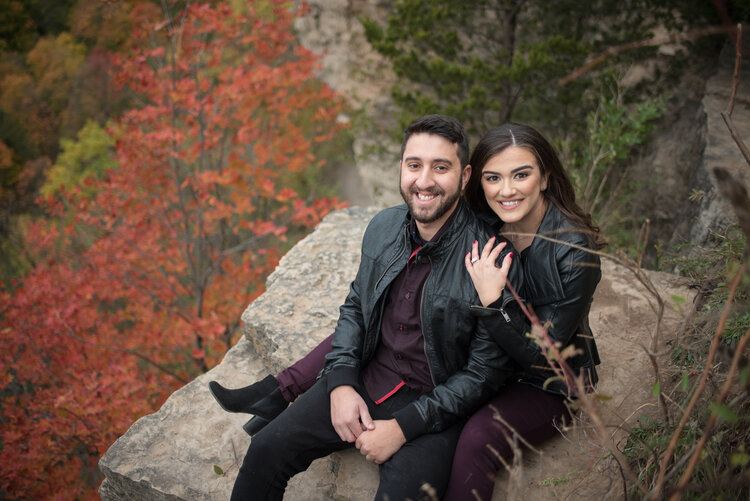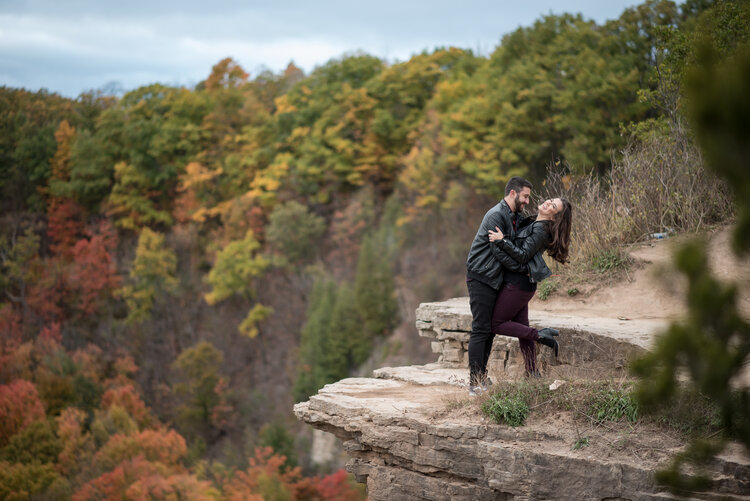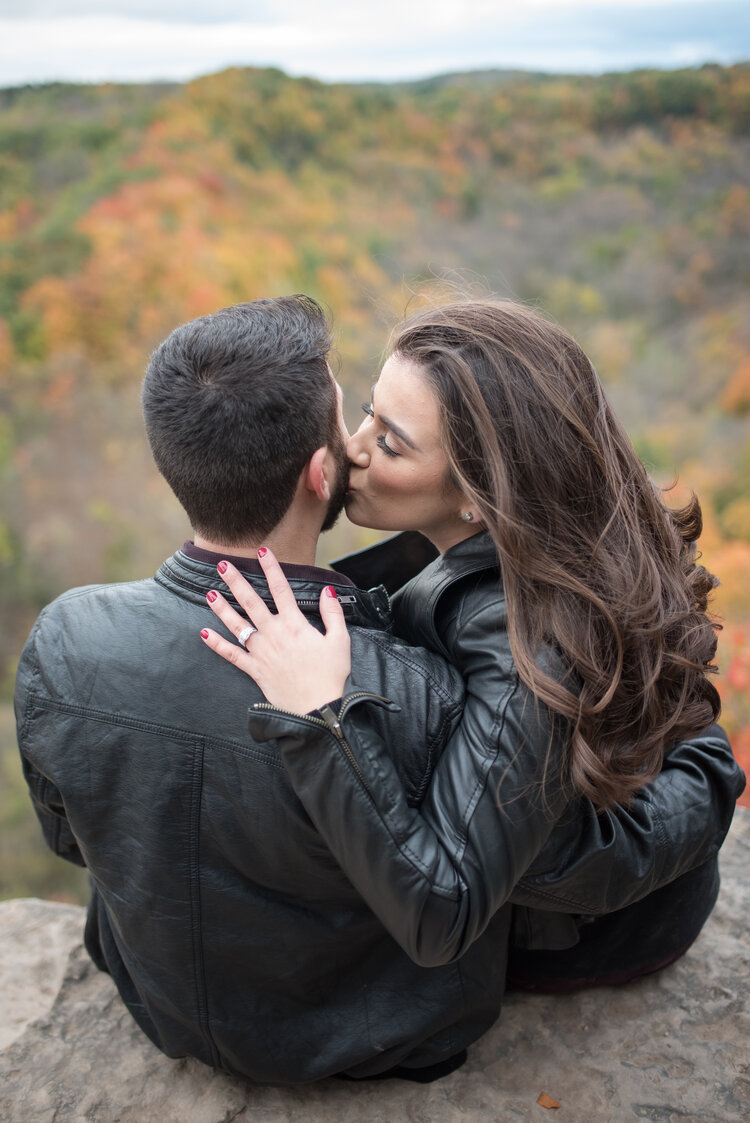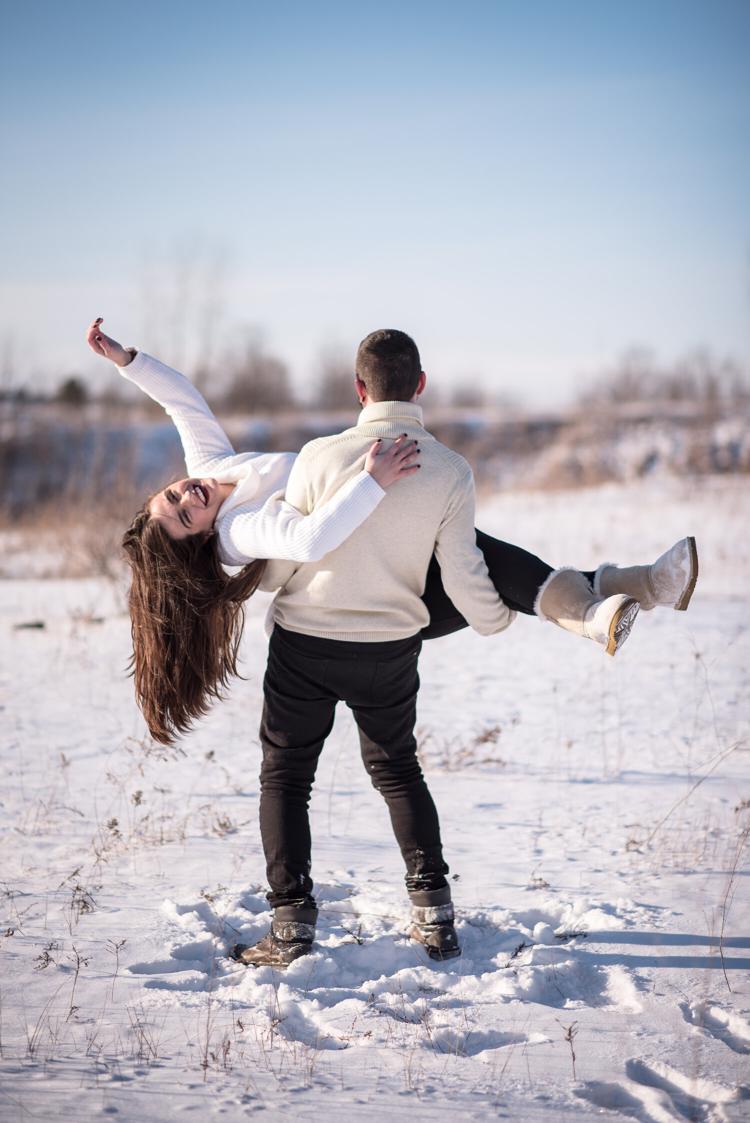 Content and photos by: Jenifer Boyce Photography